Protecting NATO's security community
27 May. 2022
|
Last updated: 27 May. 2022 09:24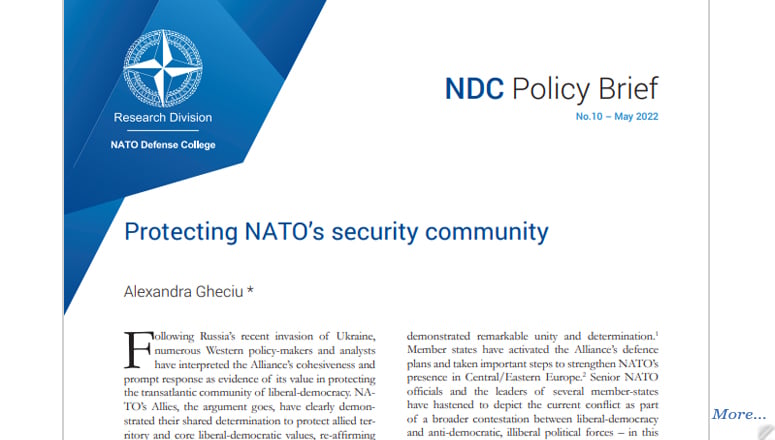 Following Russia's recent invasion of Ukraine, numerous Western policy-makers and analysts have interpreted the Alliance's cohesiveness and prompt response as evidence of its value in protecting the transatlantic community of liberal-democracy. NATO's Allies, the argument goes, have clearly demonstrated their shared determination to protect allied territory and core liberal-democratic values, re-affirming the Alliance's unshaken commitment to the principle of collective defence. But can this momentum be sustained?
While the Ukraine crisis has triggered initial practices of unity, it has also highlighted – and rendered more complex – difficult questions, tensions and normative dilemmas for NATO. This policy brief examines some of the key challenges that NATO is likely to face in protecting the transatlantic security community in the unstable, post-February 2022 environment. What is particularly important to understand is that some of those challenges concern key norms and values around which NATO defines itself. There are no simple answers to the political questions facing the security community – but there are steps that can be taken to put the Allies in a stronger position to address them.
Download the publication to keep reading.
---
*
(back)
Professor of International Politics at the University of Ottawa, Canada, and current MINDS Fellow at NDC.
---