Generals, Flag Officers and Ambassadors' Course for Partners 2022
13 Jun. 2022
|
Last updated: 13 Jun. 2022 14:46
The Generals, Flag Officers and Ambassadors' Course for Partners (GFOAC-P) took place from 6 - 10 June 2022. The purpose of this high-level course is to enhance the understanding of current political-military issues and challenges affecting the Alliance, foster mutual understanding, and promote networking amongst its participants.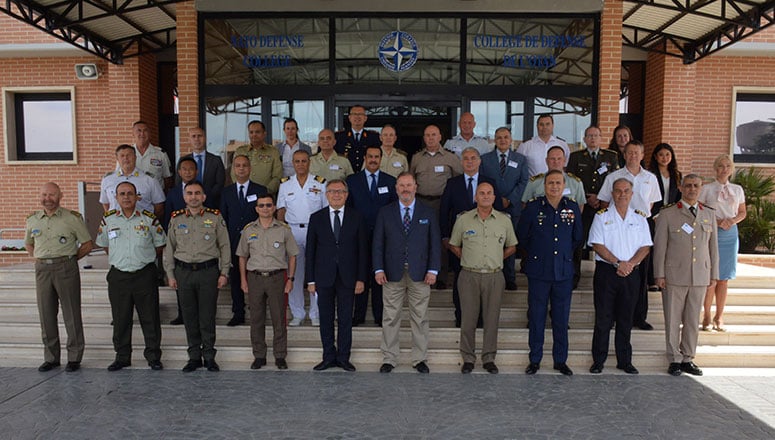 The GFOAC-P 2022 brought together 23 participants, including Generals, Ambassadors, and high-level civilian decision-makers from the Ministries of Defence, Foreign Affairs and other administrations whose interests cover strategic security issues. Course Members represented NATO Allies, the Mediterranean Dialogue, the Istanbul Cooperation Initiative, and global partners.
The first day started with welcome remarks delivered by the NATO Defense College (NDC) Dean, Dr Christopher M. Schnaubelt. Afterwards, NDC Head of the Academic Operations Division (DAO), Brigadier General Ferenc Molnár, gave a briefing on the history, organization, and main activities of the College.
The main topic of Day 1 was "Transatlantic Issues". The first lecture on "A Senior Commander's Perspectives on the Alliance's Future" was given by Lieutenant General Brice Houdet (FRA A). This was followed by a briefing on "The Transatlantic Link: The Cornerstone of the Alliance" delivered by Professor Sten Rynning (DNK) and General (Ret.) Ben Hodges (USA).
Day 2 focused on "Strategic Competitors". It opened with a presentation on "Russian Foreign and Domestic Policy", by Mr Keir Giles (GBR) and Dr Can Kasapoğlu (TUR). The next panel addressed "China's Strategy: Opening Up or Turning Inwards?" by Dr Ashley Tellis (USA).
Day 3 was dedicated to the "South". It started with a panel on "Evolving Security Landscape in the South: Challenges and Opportunities for NATO", led by Dr Jean-Hervé Jezequel (FRA), Dr Claudia Gazzini (ITA), and Dr Joseph Bahout (FRA/LBN). The next presentation was centered on "NATO's Contributions to the South's Stability", given by Mr Giovanni Romani (ITA) and Ms. Irene Fellin (ITA).
On Day 4, the main topic was "Innovation". The first presentation on "The Future of NATO: Towards a Strengthened Cooperation with the EU?" was given by Ms Federica Mogherini (ITA) and Mr Michel Soula (FRA). The next lecture on "Innovation: Risks and Opportunities", was presented by Dr Mauro Gilli (ITA), Professor Sandro Carniel (ITA), and Dr. Moritz Zimmermann.
The last day focused on "NATO 2030" and included a presentation on "NATO in 2030. Adapting to the Challenges of the Coming Decade", delivered by Ambassador Baiba Braze (LVA). All lectures were followed by a plenary discussion. There were also two sessions in Committee, during which Course Members delved further into certain issues, raised questions, and shared their own experiences.
To conclude, Senior Mentor, Ambassador Tacan Ildem, summarized the main takeaways of the Course and made by closing remarks. The conferment of diplomas was conducted by the NDC Dean.