Senior Course 141 travels to London during Field Study 1
06 Oct. 2022
|
Last updated: 07 Oct. 2022 14:12
London was the fourth capital to be visited as part of Field Study One for Senior Course 141. On 3 October 2022, Course Members visited the Ministry of Defence of the United Kingdom and attended various briefings by representatives of the Ministry of Defence and the Foreign, Commonwealth & Development Office.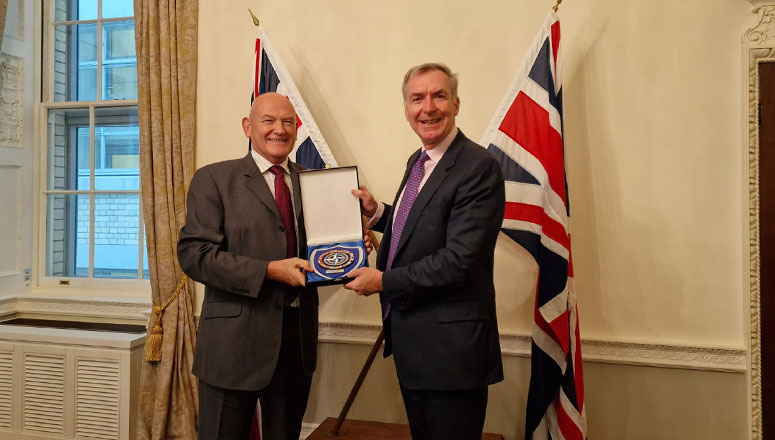 Upon arrival, the Commandant of the NATO Defense College (NDC), Lieutenant-General Olivier Rittimann, had an Office Call and gift exchange with the UK Chief of the Defence Staff, Admiral Sir Tony Radakin.
In his opening remarks, the Chief of the Defence Staff welcomed Course Members, gave his assessment of the Russia-Ukraine conflict and outlined the United Kingdom's approach to defence and security.
Afterwards, Dr Rob Johnson, Director of the Secretary of State's Office of Net Assessment and Challenge at the Ministry of Defence, delivered a presentation on the United Kingdom's current approach to "Seeking Strategic Advantage" in defence and security. He was followed by Ayaaz Nawab, Head of Strategy Development at the Ministry of Defence, who briefed Course Members on the "UK Defence Strategy", highlighting its main objectives, challenges and priorities.
The next lecturer of the day was Joanne Hamer, Head of Euro-Atlantic Security Policy (EASP), a Ministry of Defence and Foreign, Commonwealth & Development Office Joint Unit. During her briefing on "The UK and Euro-Atlantic Security", she underscored her country's commitment to Euro-Atlantic security through NATO; expectations for Europe and Euro-Atlantic security; the UK's contributions to NATO; and its for the NATO Summit to be held in Vilnius in 2023.
Brigadier Dan Blanchford, Head of Crisis and Commitments at the Ministry of Defence, then delivered a presentation on "UK Operations and Commitments". He talked about the country's defence perspective, emphasized UK's commitment to engage globally with the Alliance and Partners; and explained the UK's approach to planning operations and commitments across the world.
The last presentation, entitled "What next for Ukraine and Russia?", was provided by Mr Ben Fender, Director for Eastern Europe and Central Asia at the Foreign, Commonwealth & Development Office. He offered an analysis of the Russia-Ukraine conflict: the different phases until now; what is to come; and factors for NATO to consider.
The day concluded with closing remarks by Samantha Job, Director for Defence and International Security at the Foreign, Commonwealth & Development Office. She thanked Senior Course 141 and staff for their visit and advised Course Members to "not stop thinking", emphasizing the importance of critical thought and teamwork. All lectures were followed by a Q&A session as well as closing remarks and a gift exchange by Committee 4.