Modular Short Course (MSC 141-1) on "Contemporary NATO"
14 Oct. 2022
|
Last updated: 14 Oct. 2022 15:18
From 10 to 14 October 2022, the Modular Short Course on "Contemporary NATO" (MSC 141-1) took place at the NATO Defense College (NDC). Composed of lectures, Q&A sessions and committee work, the Course is designed to analyse the complex, challenging and evolving environment in which NATO operates and how the Alliance should adapt to remain a relevant and effective force for good.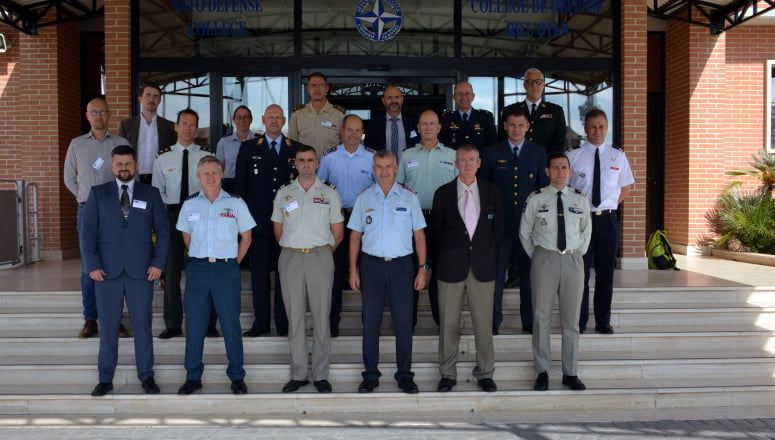 MSC 141-1 is run in conjunction with Senior Course 141 and aims to provide Course Members with an overview of some of the global security challenges identified within the scope of the "Contemporary NATO" theme.
The start of the Course was marked with welcome remarks by the NDC Commandant, Lieutenant-General Olivier Rittimann. Each of the five days began with a preparatory committee discussion, followed by a lecture and a Q&A session.
Day 1 was focused on "The Role of NATO in the Current Security Environment", with lectures delivered by Lieutenant-General Hans-Werner Wiermann and Dr Karl-Heinz Kamp, followed by committee discussions. Day 2 centred on "NATO and the Transatlantic Link", with lectures in the morning provided by Prof. Sten Rynning and Dr John R. Deni, followed by committee work during the afternoon. Day 3 was devoted to "How NATO Works" and Course Members were briefed by Brigadier-General (Ret.) Dr Patrick Wouters and Colonel Thomas Boll Bork. On Day 4, the topic of discussion was "NATO Partnerships – Opportunities and Challenges", with lectures delivered by Ms Nina Soljan and Dr Kevin Koehler, followed by committee discussions. "The Present and Future of NATO's Crisis Management" was the topic for the final day, addressed by lecturers Dr Thierry Tardy and Lieutenant-General (Ret.) Jan Broeks.