Visit of the Spanish Ambassador to Rome, H.E. Mr Miguel Angel Fernandez PALACIOS
20 Dec. 2022
|
Last updated: 20 Dec. 2022 15:22
On Tuesday 20 December, the newly appointed Ambassador of Spain to the Republic of Italy, His Excellency Mr Miguel Angel Fernandez Palacios – whose former assignment, from 2018 to 2022, was as Spain's Permanent Representative to NATO, and is a graduate from the NDC Generals, Flag Officers and Ambassadors' Course– paid a courtesy visit to the NATO Defense College and its Commandant, Lieutenant-General Olivier Rittimann.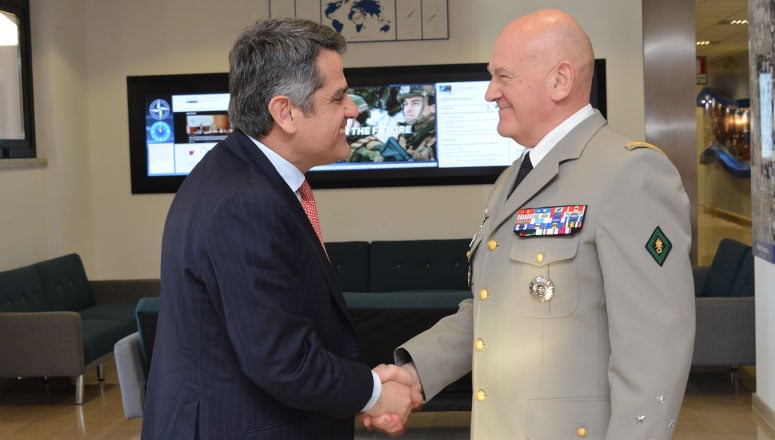 Upon arrival, the Ambassador was welcomed by the NDC Commandant and signed the Guest Book.
Afterwards, the Ambassador, accompanied by the Spanish National Representative and Faculty Adviser at the NDC Navy Captain Francisco Javier Gamboa Herraiz, had an Office Call with the NDC Commandant.
During the visit, the Ambassador also had an opportunity to meet the NDC's Spanish community around a welcome coffee hosted by the College. The visitor was then given a guided tour of the NDC premises and a group photo was taken as a lasting memento of the visit.