Senior Course 141: Committee Study Project Presentations
20 Jan. 2023
|
Last updated: 20 Jan. 2023 14:24
The presentations of Senior Course (SC) 141's Committee Study Projects (CSPs) took place on 19 and 20 January.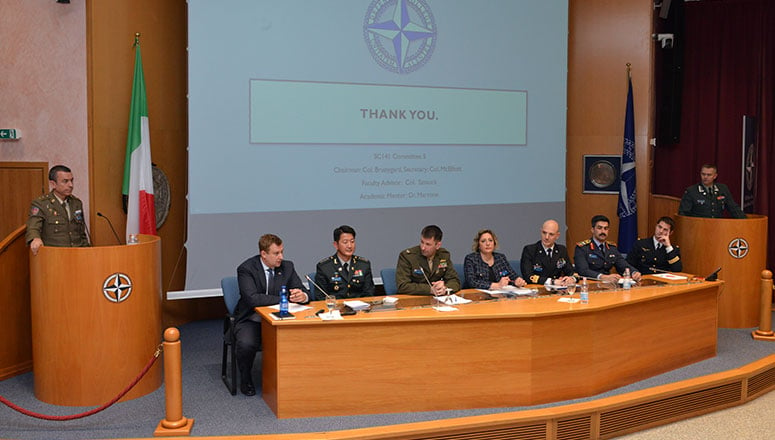 This core activity is one of the highlights of the SC curriculum and the final academic milestone for Course Members before graduation. Together with an Individual Paper (IP), the CSP is a unique opportunity to put into practice the improved skills required for working in a multinational environment.
The CSP presentations, for which CMs will have reached consensus on NATO-related topics, are the culmination of several months (beginning from the very start of the Course) of teamwork, strategic thinking, and consensus-building upon which the jury panel can assess CM's consolidated skills.
During the final academic weeks, each of the eight Committees writes a CSP Paper and present their findings before their peers, faculty, Command Group, invited guests and, last but not least, the jury panel.
The major learning objectives of this activity include demonstrating strategic thinking, critical analysis and applying consensus-building skills in answering a research question. Each Committee works with the support of a Mentor, a Faculty Advisor, and a Supporting Flag Officer throughout the entire process.
The event was held in the presence of NDC Commandant, Lieutenant-General Olivier Rittimann and two special guests, Sir Michael Leigh and Dr Karl-Heinz Kamp, who attended the SC 141 presentations. In the end, the panel of judges decide which Committee will be awarded the coveted Eisenhower Prize on Graduation Day for the best CSP.
The presentations concluded with closing remarks delivered by the two special guests and the NDC Commandant.