SC142 Field Study 1 to Belgium: Visit to the Ministry of Defence
17 Mar. 2023
|
Last updated: 17 Mar. 2023 19:30
On 15 March 2023, the NDC delegation payed a visit to the Belgian Ministry of Defence as the first stop on their Brussels programme.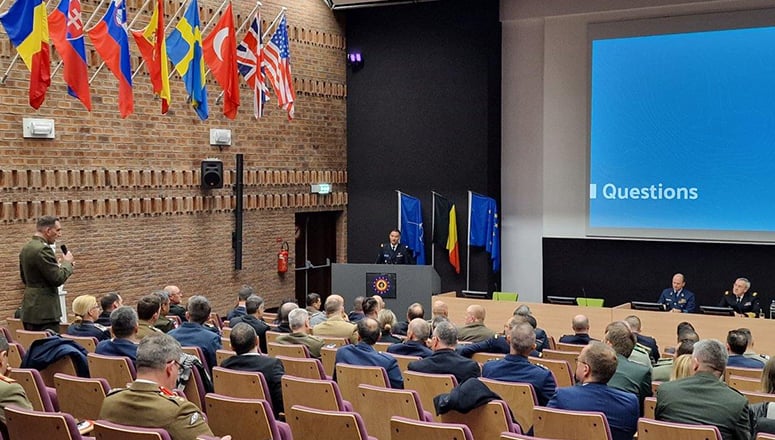 The day's session started after an Office Call between Lieutenant General Olivier Rittimann, Commandant of the NATO Defense College, and Admiral Michel Hofman, Belgian Chief of Defence.
COL Gilles Colmant, Faculty Advisor and Belgian Senior National Representative at the NDC, introduced ADM Hofman, who then gave his welcome remarks to Course Members, thanking the College and underlining the importance of the Senior Course, with participants from different nationalities working together and reinforcing cohesion among countries. He touched on several interesting topics in his speech, starting with the future challenges raised by the evolving global security situation, the rise of Russia and China, rapid technological advances and global competition, as well as climate change and the need to anticipate and mitigate its effects.
Turning to Belgium's role in international security, ADM Hofman highlighted the contribution of the Belgian Armed Forces to all missions and operations conducted by NATO and the EU, including their participation in the deployment of NATO's Very High Readiness Joint Task Force (VJTF) to Romania, carried out last year following Russia's invasion of Ukraine.
The Belgian Chief of Defence proceeded to focus on his country's defence budget, which until three years ago had been exceeding low, like in many other NATO countries, as a result of continuing disinvestment in this area. However, recent challenges had pushed Belgium to increase its defence budget by 30% in order to invest in transformation, with new weapon systems, airlift capabilities, advanced technology, the establishment of a cyber command, the introduction of drones, deployable hospitals, while also increasing recruitment, developing cooperation with the defence industry and enhancing interoperability with France and the Netherlands.
The following briefing, by Major General Frederik Vansina, Assistant Chief of Staff for Defence Policy, centred on Belgium's security and defence. MGEN Vansina gave a general overview of the external security environment, identifying two main arcs of crisis affecting Europe on its eastern and southern flanks, with a wide range of challenges to be tackled such as the Russia-Ukraine war, globalization, demographics, climate change, terrorism, hybrid threats (e.g. cyber, disinformation, propaganda) and pandemics, most recently with the spread of COVID-19.
After the terrorist attacks in 2016, Belgium realized that something needed to be done in terms of defence policy in order to uphold national sovereignty, territorial integrity, democratic values and political independence, with the aim of increasing quality of life within society as a whole. The process resulted in the publication of the National Security Strategy in 2021. MGEN Vansina ended his first presentation with a look at investment in defence, showing Course Members how the Belgian defence budget was due to increase over the coming years, rising to 1.55% of GDP in 2030 and 2% in 2035.
The next presentation, also delivered by MGEN Vansina, focused on Belgian defence challenges, the transition of the Armed Forces to new capabilities and its recapitalization in personnel, with efforts concentrated on recruiting military personnel and civilian employees, improving attractiveness and making jobs more competitive on the labour market. Turning to materiel, MGEN Vansina stressed the importance of improving the readiness of forces and investing in major capabilities in order to better address national priorities and meet current and future NATO and EU requirements. He also underlined the crucial role of the digital revolution when filling the gap in the cyber domain and enhancing interoperability.
After this last presentation of the day, Course Members were able to engage with ADM Hofman and MGEN Vansina in an insightful Q&A session, which centred mainly on conscription and recruitment, global competition and challenges emanating from Russia and China, partnership, and the defence industry. The Q&A concluded the academic day at the Belgian Ministry of Defence.