Inauguration Ceremony of Senior Course 143 and NATO Regional Cooperation Course 30
22 Aug. 2023
|
Last updated: 29 Aug. 2023 15:09
On 29 August 2023, the NATO Defense College (NDC) inaugurated Senior Course 143 and NATO Regional Cooperation Course 30 during a ceremony attended by the Deputy Supreme Allied Commander Europe (DSACEUR), Admiral Sir Keith Blount, who delivered the keynote address.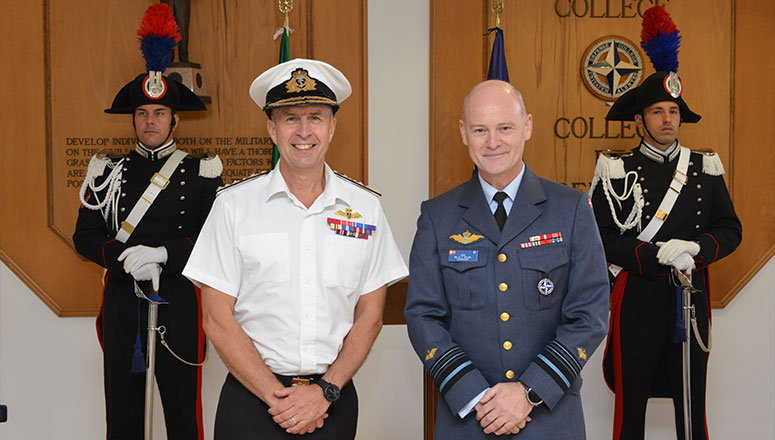 The ceremony kickstarted week 1 of the academic calendar of SC 143 and NRCC 30, officially marking the beginning of both courses. The current editions of the SC and the NRCC gather a total of 83 Course Members from 35 nations, and 36 Course Members from 22 nations, respectively.
The DSACEUR signed the guest book upon his arrival at the NDC and had an office call with the NDC Commandant, Lieutenant General Max A.L.T. Nielsen. Afterwards, both headed to the NDC Main Auditorium to start the ceremony. The NDC Commandant opened the event by encouraging Course Members to make the most of their experience at the NDC, after which he introduced the guest speaker. The DSACEUR congratulated the new Course Members, and delivered a presentation focused on NATO's development to becoming a stronger Alliance amid the "seismic" shifting of the strategic context. He reviewed how the Alliance has adapted, and how it must continue to adapt in order to stand ready for the challenges ahead. The presentation was followed by a Q&A session, which concluded the ceremony.