New Research Division Publication
24 Jun. 2011
|
Last updated: 10 Oct. 2017 13:26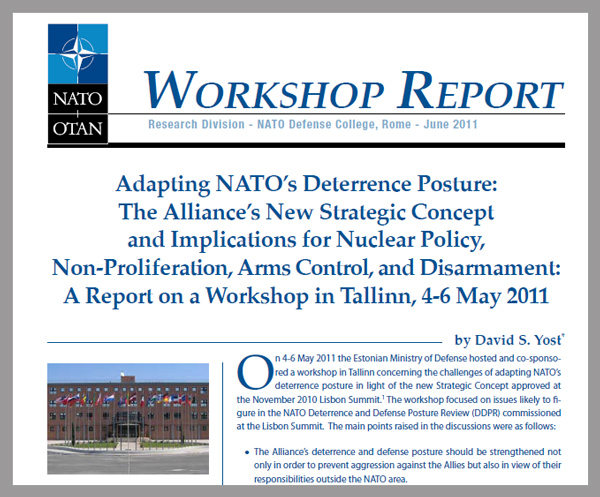 The Alliance's November 2010 Lisbon Summit Declaration and the new Strategic Concept approved at the summit set the context for this workshop.
The Allies agreed at Lisbon that "As long as nuclear weapons exist, NATO will remain a nuclear alliance." The Allies commissioned a deterrence and defense posture review to consider the future of the Alliance's nuclear posture and the potential contributions to deterrence of conventional military forces and missile defenses. To what extent can non-nuclear capabilities such as missile defenses and conventional military forces diminish reliance on nuclear deterrence? The Allies also stated in the Strategic Concept that "We are resolved to seek a safer world for all and to create the conditions for a world without nuclear weapons in accordance with the goals of the Nuclear Non-Proliferation Treaty, in a way that promotes international stability, and is based on the principle of undiminished security for all." How should the Allies sustain NATO's nuclear deterrence posture while pursuing their long-term objective of nuclear disarmament?
These questions and others were addressed in the workshop in Tallinn from 4 to 6 May 2011 co-sponsored by the Estonian Ministry of Defense, the NATO Nuclear Policy Directorate, and the U.S. Defense Threat Reduction Agency. The workshop discussions and conclusions are summarized in the report published by the NATO Defense College Research Division.