New Research Division Publication: Workshop Report
06 Dec. 2011
|
Last updated: 10 Oct. 2017 13:26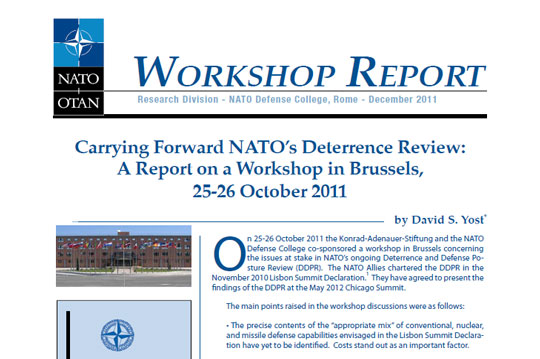 Prompted by earlier debates on the pros and cons of the so-called "tactical nuclear weapons" stationed by the US in Europe, NATO has launched a general discussion on the fundamentals of the nuclear question: how to deter whom with what? At the Lisbon summit last year, the Alliance agreed to enter into a long-term "Deterrence and Defense Posture Review" (DDPR). The idea of this review was to extend the deterrence issue beyond the realm of nuclear weapons, and also to assess the implications of conventional forces, missile defense and arms control for NATO's overall deterrence posture. First results will be presented at the Chicago Summit in May 2012.
The outcome of the DDPR is currently unpredictable. It is definitely positive that NATO has transferred the topic from an isolated nuclear discussion to a broader agenda. At the same time, the interrelation of conventional and nuclear weapons with missile defense capabilities and arms control measures arguably seems one of the most complex issues to analyze and to find consensus on. The more thoroughly it is debated, the more new implications emerge - as one NATO representative involved in the process put it: "We created a Frankenstein".
On 25-26 October 2011 the NATO Defense College, in cooperation with the Konrad-Adenauer-Stiftung, organized a workshop in Brussels concerning the issues at stake in NATO's ongoing DDPR process. David S. Yost, Professor at the U.S. Naval Postgraduate School in Monterey, California, and a Guest Scholar at the NATO Defense College, summed up the debates and compiled the final report.