NRCC Graduation Ceremony in the presence of Ambassador BISOGNIERO
15 May. 2009
|
Last updated: 31 Aug. 2015 16:19
The graduation ceremony for the first fully-fledged NATO Regional Cooperation Course (NRCC) was held today, 15 May, in the presence of Ambassador Claudio Bisogniero, NATO Deputy Secretary General.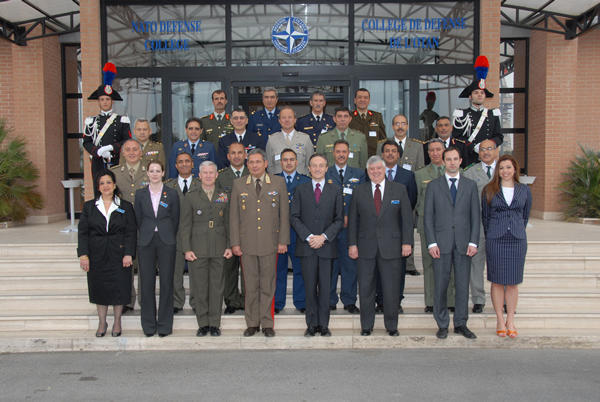 The NRCC is an initiative developed in order to expand the NATO network of educational activities towards the partners of the Mediterranean Dialogue (MD) and the Istanbul Cooperation Initiative (ICI).
The purpose of the NRCC is to inform military and civilian personnel from MD, ICI and NATO countries who are working in the Mediterranean Region and the Middle East, or in their respective agencies, on current and future security challenges affecting the region.
The second NRCC aim is to foster reciprocal understanding and respect and establish long term networking among participants.
The opening of the Faculty and the graduation of the first ten-week course are undoubtedly very important events in the framework of international cooperation aimed at promoting security and stability in a region characterized by continuous tension and crises.
The course culminated in a tough three-day crisis management exercise in which Course Members developed the strategic guidance they had received to address a complex situation requiring a comprehensive approach.
At the end of their ten weeks at the NDC, the 20 participants from 13 countries had an open discussion with Ambassador Bisogniero about the value of the NRCC and their future perspectives. The Ambassador then presided over the NRCC graduation ceremony and delivered a graduation address focusing on the new security issues. He underlined the importance of collective response and the link with military transformation, and also of the relationship between Article 5 and non Article 5 missions in the new strategic concept. He stressed that, in order to face today's security challenges, cooperation with Russia is essential.
During the brief but intensive Q&A session, Ambassador Bisogniero responded to highly relevant and searching questions with detailed expert opinions. He emphasized the significant role played by the College in achieving human interoperability. The key to success, he said, was to tackle security problems together. Difficulties and differences of opinion were frankly and candidly discussed, as were the clear challenges for the future, especially with regard to Afghanistan.