New Research Division Publication: "Five Long-Term Challenges for NATO beyond the Ukraine Crisis"
23 Jul. 2014
|
Last updated: 10 Oct. 2017 13:26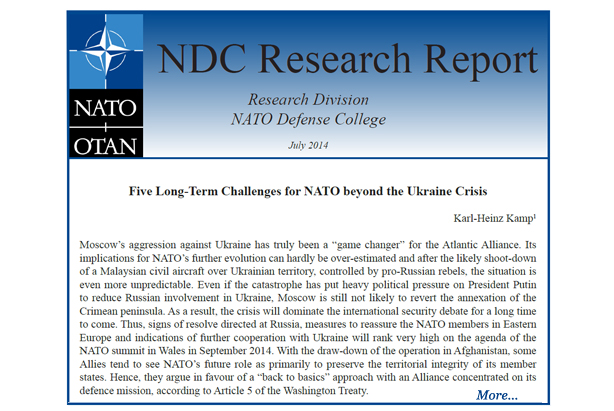 The North Atlantic Alliance today faces an old nemesis on its Eastern borders. The return of Russia as a potential adversary, one that has already taken advantage of two of its neighbouring states—both also Partners of NATO—has caused the Alliance to reconsider the comfortable role it had created for itself over the past 20 years as an out-of-area security provider that could afford to devalue its collective defense responsibilities. NATO now faces the challenge of coping once again with the legitimate security concerns of its new members in Eastern Europe. But as a global actor it also has to preserve its broader perspective in order to deal with the complexities of the 21st century security environment. The three core missions NATO defined in its 2010 Strategic Concept – deterrence and defence, crisis management, and cooperative security through partnerships – will remain relevant. However, our author argues, a new Alliance consensus needs to be forged on five important questions which go far beyond the crisis in Ukraine: how to shape the relationship with Russia, how to deal with the enlargement question, how to cope with the Washington pivot to the Asian-Pacific Region, how to adapt partnerships to the post-Afghan world, and what NATO's role will be in the Middle East region. Our latest Research Report by Dr. Karl-Heinz Kamp tries to find answers to these questions.
Dr Jeffrey Larsen, Division Head Research