OSCE Secretary General Lamberto Zannier delivers the Eisenhower Lecture at the NATO Defense College
31 Oct. 2014
|
Last updated: 10 Oct. 2017 13:26
On 31st October, the NATO Defense College (NDC) had the honour of welcoming H.E. Ambassador Lamberto Zannier, Secretary General of the Organization for Security and Co-operation in Europe (OSCE), who delivered the traditional Eisenhower Lecture to Senior Course 125 (SC-125), NRCC -12, NDC Faculty and Staff.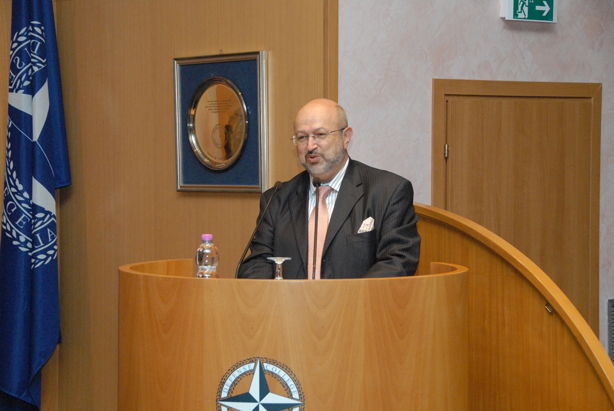 Upon arrival, the Ambassador was greeted by the NDC Commandant, Major General Janusz Bojarski (POL F) and the NDC Dean Dr Daria Daniels Skodnik (SVN C). He then spent time in discussions with them, during the customary office call.
The Eisenhower Lecture, which is given by a high-level guest speaker twice a year during the Senior Course, honours the memory and legacy of the founder of the NDC, General Dwight D. Eisenhower.
As the most prominent lecture of the Course, it provides expert insight into current NATO and global affairs.
On this occasion, the speaker discussed "Current European security challenges and the role of the OSCE", focusing on the relationship between NATO and the OSCE and their cooperation in facing many of the international issues that have arisen over the years. During his extemporaneous presentation on the most relevant aspects of the Ukrainian situation, he also provided a general view on the many tools used by the OSCE in responding to the security challenges within its mandate.
The lecture was followed by an interesting Q&A session, where Course Members had the opportunity to exchange views with the Ambassador on related issues.
H.E. Ambassador Lamberto Zannier took up the position of OSCE Secretary General on 1 July 2011. Ambassador Zannier is an Italian career diplomat. From June 2008 to June 2011 he was UN Special Representative for Kosovo and Head of the United Nations Interim Administration Mission in Kosovo (UNMIK). From 2002 to 2006, he was Director of the Conflict Prevention Centre of the OSCE. Previous senior positions include Permanent Representative of Italy to the Executive Council of the Organization for the Prohibition of Chemical Weapons in The Hague (2000-2002), Chairperson of the negotiations on the adaptation of the Treaty on Conventional Armed Forces in Europe (1997-2000) and Head of Disarmament, Arms Control and Cooperative Security at NATO (1991-1997).
The OSCE has a comprehensive approach to security that encompasses politico-military, economic and environmental, and human aspects. It addresses a wide range of security-related concerns, including arms control, confidence- and security-building measures, human rights, national minorities, democratization, policing strategies, counter-terrorism and economic and environmental activities. All 57 participating States enjoy equal status, and mirroring NATO's own decision-making approach, decisions are taken by consensus on a politically, but not legally binding basis.