NATO and the New Ways of Warfare - Defeating Hybrid Threats
30 Apr. 2015
|
Last updated: 10 Oct. 2017 13:27
The conference entitled "NATO and the New Ways of Warfare: Defeating Hybrid Threats" represents a fundamental milestone for the NATO Defense College and the Alliance.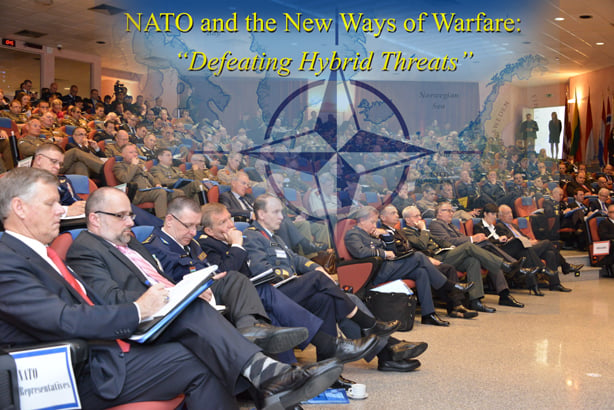 The Russian-Ukrainian conflict on the Eastern border of Ukraine has had a direct impact, not only on the countries concerned, but also on the entire international community. NATO has taken a central role in trying to identify concrete solutions to bring back peace between the two countries. The conflict has been further complicated by the use of 'hybrid warfare' tactics – the mix of military and non-military, conventional and irregular components, including cyber and information operations – characterizing one of the most complex issues the international community has had to deal with. Thus, finding the way to address hybrid warfare can ultimately mean finding the route to a permanent ceasefire.
The NATO Defense College, as the prime educational institution of the Alliance, organized the "NATO and the New Ways of Warfare" conference to bring about a better understanding of this crucial subject.
On 28 April 2015, H.E. Tomasz ORŁOWSKI (POL), Ambassador Extraordinary and Plenipotentiary to Italy and the Republic of San Marino, gave the opening remarks, underlining the importance of the conference for a more detailed appreciation of the hybrid warfare scenario.
On 29 April 2015, the Commandant of the NATO Defense College, Major General Janusz BOJARSKI (POL F), together with the Conference Chair Dr Jeffrey LARSEN (USA), Director of Research, opened proceedings. The keynote address was given by General Knud BARTELS (DNK), Chairman, NATO Military Committee.
The first session, dedicated to "The Eastern Flank – Russia and Hybrid Warfare, was introduced by Mr Nik GOWING (GBR), International Broadcaster, London, as panel moderator. The panellists were Brigadier Heinz KRIEB (AUT), Director CON-CAP; Mr Heinrich BRAUSS (DEU), Assistant Secretary General for Policy and Planning, NATO HQ; and Brigadier General Nico TAK (NLD), Director, NATO Comprehensive Crisis and Operations Management Centre.
In the second session, moderated by Dr Jamie SHEA (GBR), Deputy Assistant Secretary General, Emerging Security Challenges Division, NATO HQ, Professor Fawaz GERGES (GBR) of the London School of Economics explored "The Southern Flank – MENA, ISIL and New Threats".
The third and final session of the day, on "NATO's Response to New Threats", was moderated by Professor Dr Julian LINDLEY-FRENCH (GBR), President, Europa Analytica, the panellists being General Frank GORENC (USA), Commander, NATO Air Command; Lieutenant General John NICHOLSON (USA), Commander, NATO Land Forces Command; and Vice Admiral Peter HUDSON (GBR), Commander, NATO Maritime Command.
Later at Palazzo Taverna, H.E. Thomas GREMINGER (CHE), Ambassador and Former Chairman, Permanent Council of the Organization for Security Cooperation in Europe, delivered the keynote address, after brief remarks by the Chief of the Czech General Staff General Petr PAVEL, who has been named as the next Chairman of NATO's Military Committee.
The second and final day of the conference opened with presentations on "The Alliance and Managing the Hybrid Challenge", moderated by Dr Jeffrey LARSEN (USA), Conference Chair and Director of Research, NATO Defense College. The speakers were Major General Gordon DAVIS (USA), Deputy Chief of Staff Operations and Intelligence, SHAPE; and Dr Mel McNulty, Head of Politics, UK Joint Delegation to NATO.
The sessions on "Deterrence and Reassurance", "The Russia Challenge" and "The Middle East Challenge" were moderated respectively by Mr Michael RÜHLE (DEU), Head Energy Security Section, Emerging Security Challenges Division, NATO HQ; Ms Radoslava STEFANOVA (ITA/BUL), Head Russia and Ukraine Relations, Political Affairs and Security Policy Division, NATO HQ; and Dr Richard HOOKER (USA), Director, Institute for National Strategic Studies, National Defense University, Washington and former NDC Dean. The speakers for these sessions were Lieutenant General Michael DAY (CAN), Deputy Commander, Allied Joint Force Command Naples; Mr Nicolas ROCHE (FRA), Director for Strategy and Policy, Military Applications Division, French Atomic Energy Commission; Mr Elbridge COLBY (USA), Center for a New American Security, Washington; Brigadier General Vladimir CHACHIBAIA (GEO), First Deputy Chief of General Staff, General Staff of Georgian Armed Forces; Mr Matthew ROJANSKY (USA), Director, Kennan Institute, Wilson Center, Washington; Mr Oleksiy MELNYK (UKR), Co-Director, Foreign Relations and International Security Programmes, Razumkov Centre, Kiev; Lieutenant General (ret.) Dan HALOUTZ (ISR), Former Chief of Staff Israeli Defence Forces, Tel Aviv; Major General Mohammed FARGHAL (JOR), Director, Centre for Strategic Studies, Jordanian Armed Forces; and Dr Can KASAPOĞLU (TUR), Centre for Economics and Foreign Policy Studies, Istanbul.
Concluding remarks were offered by Professor Dr Julian LINDLEY-FRENCH (GBR), Conference rapporteur, and Major General Janusz BOJARSKI (POL), NDC Commandant.
A detailed conference report will soon be available on the NDC website.