NRCC 14 Graduation Ceremony
04 Dec. 2015
|
Last updated: 04 Dec. 2015 15:09
On 4 December 2015, the NATO Defense College (NDC) celebrated the graduation of the 14th edition of the NATO Regional Cooperation Course (NRCC-14).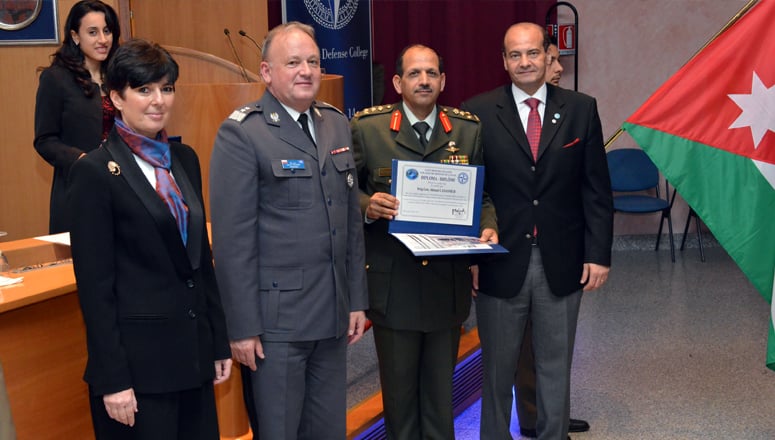 Upon arrival special guests to the ceremony were warmly welcomed by NDC Commandant MGen Janusz Bojarski (POL F), as well as by the Dean Dr Daria Daniels Skodnik (SVN C) and by the Director of the Middle East Faculty Col Giuseppe Morabito (ITA A).
Before Course Members received their graduation diplomas and the congratulations of the NDC leadership, MGen Bojarski spoke about the importance of this unique Course, highlighting its value in promoting dialogue amongst participants and improving common understanding. The Commandant underlined that cooperation, rather than unilateral action, is the key to facing future challenges together. One of NATO's great strengths is its respect for this principle.
NRCC-14 Course Members and guests were then addressed by Ambassador Dr Sameh AboulEnein (EGY) on "Emerging Regional Challenges". The speaker recognized the growing importance of information security and the urgent need to develop an international mechanism for fighting terrorism. He underlined that the major challenges in maintaining peace and security are best addressed by dialogue and cooperation among Allies and Partners, committed to identifying appropriate solutions. In order to prevent nuclear armament and proliferation in the Middle East H.E. Dr AboulEnein indicated three main priorities: dismantling and destroying existing or remaining nuclear weapons; using nuclear materials and facilities for peaceful purposes; and addressing the issue of verification, with clear recognition of the role to be played by the IAEA.
NRCC-14 brought together 42 participants from 17 NATO, Mediterranean Dialogue, Istanbul Cooperation Initiative, as well as Global Partner countries. During their ten weeks at the NDC, Course Members established a stimulating environment for discussion with the aim of increasing future international cooperation and finding solutions to current issues.
The first Course (NRCC-1) was held in 2009, with the objective of enhancing dialogue, mutual understanding and cooperation between NATO and its Partners. The goal of the NRCC is to inform military and civilian personnel from MD, ICI and NATO countries who are working in the Mediterranean Region and the Middle East, or in their respective agencies, on current and future security challenges affecting the region.
After the graduation ceremony, NRCC-14 Course Members presented the NDC with a Sports Afternoon volleyball cup, which the NRCC had won for the first time ever this year, as a token of gratitude.