NRCC 15 Field Study: NATO institutions in Belgium
16 Mar. 2016
|
Last updated: 16 Mar. 2016 14:36
On 14th March 2016, the 15th NATO Regional Cooperation Course (NRCC 15) began its Field Study with a day at NATO HQ in Brussels. The delegation attended several institutional presentations and briefings on the challenges NATO is currently facing.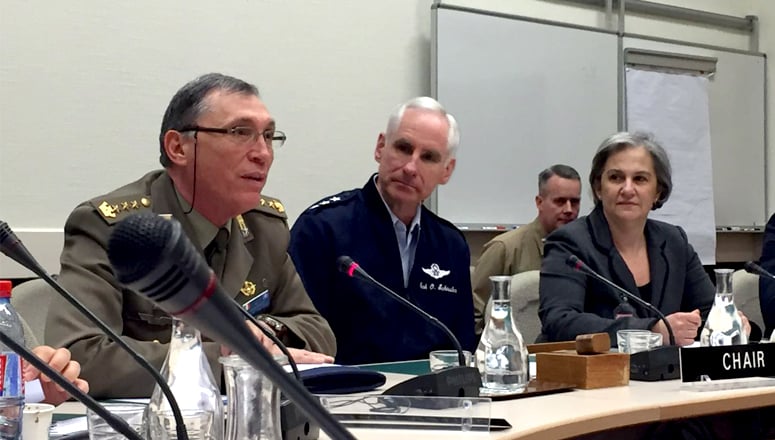 Mr James Appathurai, Deputy Assistant Secretary General for Political Affairs and Security Policy, who is also the NATO Secretary General's Special Representative for the Caucasus and Central Asia, started off the session with a thorough analysis of relations between NATO and Partner countries in the Middle East and North Africa. He expanded on the importance of restoring stability in Libya.
The second presentation was delivered by Ms Mariem Ben Hassine, Deputy Head of the Political Affairs and Security Policy Division's Middle East and North Africa Section. She briefed Course Members on the history of NATO's outreach to the Mediterranean and the Middle East.
Mr Michel Soula, Head Operations and Missions, provided a detailed overview of current NATO crisis management operations and answered questions in a very candid and open way.
After a hosted lunch, the delegation had the honour to be addressed by Lieutenant General Mark O. Schissler, Deputy Chairman of the North Atlantic Military Committee. He extensively illustrated the challenges NATO is currently facing and stressed the fundamental role of partnership as a key to success. NRCC Course Members greatly appreciated his frankness during the ensuing Q&A session.
Rear Admiral Emil Eftimov, Director of the Cooperation and Regional Security Division, then spoke about NATO military cooperation.
Ms Radoslava Stefanova, Head of Russia and Ukraine Relations in the Political Affairs and Security Policy Division, afterwards gave a talk on current relations between NATO and Russia.
The last briefing was by H.E. Miguel Aguirre de Carcer, Permanent Representative of Spain in the North Atlantic Council, who carefully analysed NATO's role in the current uncertainty of the international environment.
The next day, NRCC 15 travelled to Mons for a visit to Supreme Headquarters Allied Powers Europe (SHAPE), the strategic-level headquarters of Allied Command Operations (ACO).
The group was welcomed by Major General Guastella, Deputy Chief of Staff Operations and Intelligence, who gave an overview of NATO's involvement in different missions around the world.
The second and the third presentations were by LtCol Imrich Petruf and LtCol Ed Roberds respectively: both speakers briefed the delegation on the importance of relations with Partner countries.
The visit to Mons ended with a very lively Q&A session led by BrigGen Nico Tak, Director of the Comprehensive Crisis and Operations Management Centre at SHAPE.
These two days in Brussels and Mons gave participants a unique opportunity to better understand how NATO works and the challenges it faces.