New Research Division Publication - NATO and Russia: Managing the Relationship
09 May. 2016
|
Last updated: 10 Oct. 2017 13:26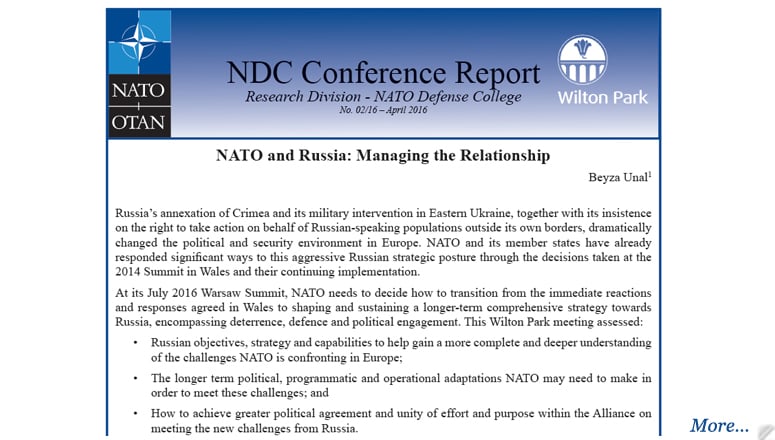 "Russia's annexation of Crimea and its military intervention in Eastern Ukraine, together with its insistence on the right to take action on behalf of Russian-speaking populations outside its own borders, dramatically changed the political and security environment in Europe. NATO and its member states have already responded signifi cant ways to this aggressive Russian strategic posture through the decisions taken at the 2014 Summit in Wales and their continuing implementation.
At its July 2016 Warsaw Summit, NA TO needs to decide how to transition from the immediate reactions and responses agreed in Wales to shaping and sustaining a longer-term comprehensive strategy towards Russia, encompassing deterrence, defence and political engagement. This Wilton Park meeting assessed:

Russian objectives, strategy and capabilities to help gain a more complete and deeper understanding of the challenges NATO is confronting in Europe;
The longer term political, programmatic and operational adaptations NATO may need to make in order to meet these challenges; and
How to achieve greater political agreement and unity of effort and purpose within the Alliance on meeting the new challenges from Russia."
(Excerpt from the publication; please download it to read more)