Senior Course 128 'Regional Approaches and PfP' Field Study: Latvia
21 Jun. 2016
|
Last updated: 23 Jun. 2016 14:13
Mr Janis Garisons, State Secretary of the Ministry of Defence of Latvia, welcomed Senior Course 128 to Latvia on the evening of 19 June 2016 at the Latvian National Library, and joined Course Members for the briefings on 20 June. In his welcoming address, the State Secretary drew attention to the military activities on NATO's eastern border and their escalatory nature. Referring to Clausewitz's interpretation of war, Mr Garisons underlined the importance of developments in technology and the readiness of forces to defend the country, while explaining the need for deterrence measures, such as forward presence.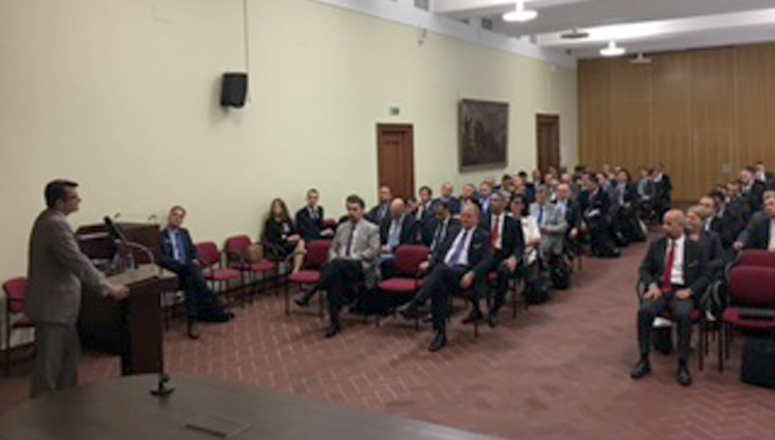 The delegation heard a presentation on the security situation in the Baltic region reflecting the Latvian perspective from Dr Janis Berzins, Director of the Security and Strategic Research Centre at the National Defence Academy. He expanded on the different interpretations of hybrid warfare, while mentioning the "new generation of warfare". Dr Berzins further explained the asymmetries in this type of warfare and their consequences on real life in the Baltic region. The Question and Answer session with Dr Berzins broadened Course Members' understanding of the strategic implications of this new generation of warfare in the Baltic states.
Later in the day, Mr Janis Sartsan, Ancien of the NDC and Director of the NATO Strategic Communications Centre of Excellence in Riga, briefed Course Members on strategic communications and how state and non-state actors use them to achieve their strategic objectives in their region, as well as in NATO countries. Information, the environment in which it is used, networking, perception, and the changing of behaviour patterns by using strategic communication techniques were the main issues analyzed during the briefing. The speaker explained that information operations are most successful when society is unaware of them, so society must be kept informed as a counter-measure. Mr Sart's briefing was followed by a useful Question and Answer period.
The concluding briefing in Riga was delivered by Mr Ivars Lasis, Director of the Security Policy Department at the Ministry of Foreign Affairs. He touched upon the security situation in the Baltic Sea region and on preparations for the NATO Summit in Warsaw. Reminding the audience of NATO's recent efforts in the Baltic region, the Director indicated that Latvia hopes that these measures are implemented swiftly in accordance with NATO's deterrence policies. In his remarks, Mr Lasis underlined the required cooperation on resilience, adding that Latvia contributes to NATO's 360° approach to countering threats.