The NDC Signs an Academic Partnership with the University of Leicester (UK)
25 Oct. 2016
|
Last updated: 25 Oct. 2016 17:24
Coinciding with celebrations for the NATO Defense College's 65th anniversary and its 50 years in Rome, a Memorandum of Understanding was signed with the University of Leicester.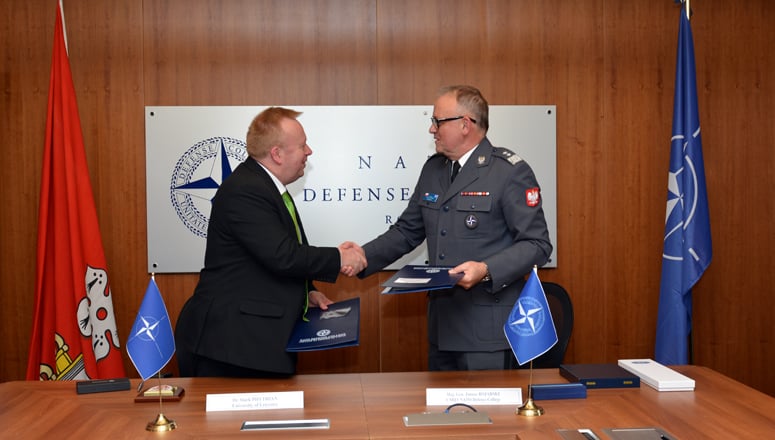 The University of Leicester, a leading provider of distance learning for postgraduate study in the United Kingdom, has agreed to partner NDC in facilitating a range of postgraduate studies for those completing its Senior Course (SC). There is also the opportunity, subject to meeting acceptance criteria, for PhD Study by separate arrangement.
The University of Leicester's School of History, Politics and International Relations has assessed the NDC's current academic curriculum as exceeding the requirements for their Master's module on "Strategy in the Modern World" and, through Accredited Prior Experience and Learning (APEL) principles, has offered a Master's module credit on completion of the SC.  This offer is without additional effort for Course Members (CMs), to thereafter engage in a varying level of additional postgraduate study.  A module is valued at 30 Master's points, equal to 15 ECTS points under the Bologna system.  The SC credit is valid for 5 years and can be applied on a rolling 5-year basis retrospectively, currently dating back to SC 120 (expiring in Feb 2017).