Conference of Commandants – 34 Edition, Rome (Italy)
29 Sep. 2023
|
Last updated: 8 April 2005
The 34th Conference of Commandants, organized by the NDC and chaired by its Commandant, was held in Rome from 6th to 8th April 2005. The Conference was attended by 80 participants, including 46 Commandants representing 32 nations. Belarus was present for the first time and Allied Command Transformation (ACT) also sent a representative.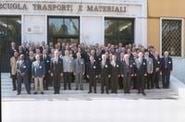 The theme of the 3-day conference, "New Developments in Educating Tomorrow's Leaders", gave Commandants the opportunity to analyze and discuss the challenges facing tomorrow's leaders and the enormous responsibilities for those charged with preparing them to meet these challenges.
An important achievement of the Conferences of Commandants is the work done by the various ad hoc groups dealing with issues raised during previous Conferences. Several groups presented their findings to the 34 th CoC. Presentations on "Human Trafficking" and "Critical Infrastructure Protection" demonstrated how combined efforts could ensure the rapid delivery of important courseware. The presentations on course accreditation and harmonization of curricula led to animated discussions which underlined the high degree of interest amongst the participants.
In accordance with a decision taken at the meeting, the NDC identified a number of online courses in which CoC members may be interested and which are accessible from the PfP LMS. Click on ADL Courses to see a list and brief description of the courses.
Perhaps the most important decision taken during this conference was to support the Chairman's plan to supplement the annual face-to-face consultations with continuous cooperation using a web-based network. The NDC will set up and maintain a Conference of Commandants Portal (CCP) which will become a CoC network within the NDC Website.