Conference of Commandants – 33 Edition, Sofia (Bulgaria)
25 Mar. 2023
|
Last updated: 24 April 2004
The 33rd Conference of Commandants, sponsored by the G.S. Rakovski Defence and Staff College, was held in Sofia on 22-24 March 2004.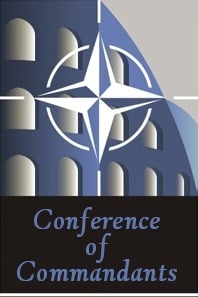 The Conference was opened by the Bulgarian Deputy Minister of Defence, Mr. Ilko DIMITROV, who underscored the significance of hosting the Conference in Sofia on the eve of Bulgaria's entry into NATO.
Of the 84 participants, there were 45 Commandants representing 35 nations – 17 NATO, 14 PfP and 4 Mediterranean Dialogue. Two new nations, Albania and Croatia, were welcomed, together with four first-time Institutions from Mauritania, Romania, Russia and Switzerland. This represented an approximate 18% increase in participation over the previous year, consistent with Outreach objectives.
The main discussion items included 21 presentations under the thematic heading of Changing Security… Changing Education. The stage for this was set through an extremely well received keynote speech by Professor Dominique MOISI, the Deputy Director of the Institut Français des Relations Internationales and Editor of Politique Etrangère.
Several excellent presentations by Hungary, the Netherlands and the United Kingdom focused on the Standardisation of Education and Training and on International Military Accreditation. Additionally, five new Commandants provided information briefings on their respective Institutions and the newly appointed Executive Director of the PfP Consortium of Defence Academies and Security Studies Institutes gave a brief on the new governance structure of the Consortium.
A particularly encouraging trend was the increasing collaboration among Commandants and the significant exchange of information prior to the Conference. Three Commandants (Austria, Germany and Israel) collaborated on The Staff Officer of the 21st Century in a Multinational Environment – a subject carried forward from the last Conference. Three others (Canada, Greece and Switzerland) presented a new initiative on Critical Infrastructure Protection (CIP). This work, which will be further developed through sub-working groups in the coming year, is the result of collaboration since the 2003 Conference, between 7 nations (AU, CA, GR, PL, RU, UK and US) and the NATO Defense College, to develop a baseline curriculum for potential use in the various Institutions represented at the Conference.
Both the format and content of the Conference continue to improve. The Conference is also achieving its goal of becoming more output-oriented. In addition to CIP, Commandants agreed to examine the possibility of setting up a working group to examine the issue of Human Trafficking. Work will also continue throughout the coming year to develop a methodology for mutual accreditation of curricula among Institutions with the ultimate objective of civilian accreditation. Commandants also agreed to more extensive dialogue and sharing of information throughout the year, particularly in the area of Staff Officer Education.