International Week in Kyiv
21 Oct. 2020
|
Last updated: 13 March 2019
NATO's support for Senior military education in Ukraine was initiated on 28 January 2000, when Mr Kuzmuk, the Ukrainian Defence Minister, met the then NATO Secretary General, Lord Robertson, and they agreed to run an international course in Kyiv. The first "International Week" was held on 12-16 February 2001, at what was at that time called the Ukrainian National Defence Academy.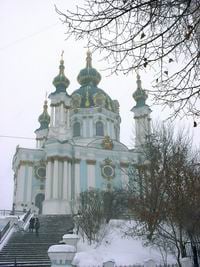 The formal aims of the International Week are:
* to improve knowledge of NATO, its organization and working methods;
* to discuss the challenges facing the Atlantic Alliance and its partners in today's security environment;
* to address some key current issues in the field of international security; and
* to demonstrate the importance of a strong partnership between Ukraine and NATO.
The 19th annual International Kyiv Week, jointly organized by the NATO Defense College (NDC) and the Ukrainian National Defence University (UNDU), with support from NATO School Oberammergau (NSO), will take place from Monday 1 to Friday 5 April 2019. The main theme is: " NATO beyond the Brussels Summit and 21st Century Challenges ".