International Week in Kyiv – 12 Edition, Kyiv (Ukraine)
29 Sep. 2023
|
Last updated: 25 March 2013
NATO: a Common Response to Common Security Challenges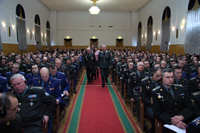 Monday 6th February was the inaugural day of the 12th International Week at the Ukrainian National Defence University (UNDU) in Kyiv. The speakers at the inauguration were General Vasyl Maksymovich TELELYM, Commandant of the Ukrainian National Defence University; Ambassador Henryk LITWIN, the representative of the Republic of Poland, whose Embassy is the NATO Point of Contact (POC) in Ukraine; and Lieutenant General Arne Bård DALHAUG, Commandant of the NATO Defense College (NDC).
During his opening remarks, Lieutenant General DALHAUG underlined that the one-week course at the Ukrainian National Defence University is the only event of this kind that the NDC is involved in. Willingness to undertake so substantial a commitment offers a clear indication of the importance both the NDC and the Alliance at large attach to relations with Ukraine.
The Kyiv Week seeks to enhance understanding of some of the politico-military issues within the Alliance, and to familiarize participants with current and future NATO roles and priorities. Over the years, the agenda has been steadily developed. While the earliest courses were almost entirely devoted to strategic-level issues, this year's agenda has been extended to include lectures on the purely operational level, in addition to those covering strategic issues. In this broadened perspective, experts from NATO School Oberammergau will deliver lectures on current practical NATO activities.
High-level speakers like H.E. Mr. Henryk LITWIN, the Polish Ambassador in Kyiv, Lieutenant General (ret) P.M. GODDERIJ, a former Director of NATO's International Military Staff (IMS), and Rear Admiral Bob DAVIDSON, Director Plans and Policy Division at the IMS, will lecture on a broad range of issues facing the Alliance in the contemporary global environment.
International Week in Kyiv has become a regular event since NATO's support for Senior Military Education in Ukraine began on 28th January 2000. This was the date when Mr. KUZMUK, the then Ukrainian Defence Minister, met the former NATO Secretary General, Lord ROBERTSON, and they agreed to run an international course at the Ukrainian National Defence Academy (as it was then known) in Kyiv.