Conference of Commandants – 36 Edition, Pula (Croatia)
25 Mar. 2023
|
Last updated: 24 April 2007
The 36th Conference of Commandants, organised by the NATO Defense College, was held in Pula, Croatia from 22 to 24 April 2007, under the chairmanship of the NDC Commandant, Lieutenant General Marc Vankeirsbilck.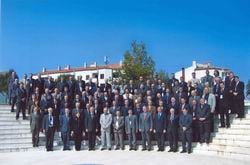 The conference, hosted by the Commandant of the Joint Education & Training Center 'Petar Zrinski', Major General Mirko Sundov was attended by 102 participants - 48 of whom were Commandants or Delegated Officers - representing 37 nations and a total of 54 institutions and colleges.
The conference welcomed Australia which is the first ever Contact Country to attend and South Africa which has joined as observer with a view to institute a similar forum in austral Africa. Many issues of common interest were discussed as the requirement to develop individual skills' sets for senior officers to meet contemporary needs of a world in constant flux.
Benefiting from academic freedom, our institutions possess a lever for redesigning their curriculum to face the future changes and the Conference addressed ways to enhance course delivery exploiting new educational practices.
The Conference explored new methods for its membership to better discuss issues through a series of 'Thinking Platforms' and a 'discussion exercise' to develop a conceptual model for regional groupings. Blended learning; course registry and database; multi national and multi agency common training and education; research registry and networking were all but few of the subjects Commandants discussed during those two extremely busy days.
This year's Conference wouldn't have met such a success without the exceptional planning and undivided attention of Major General Mirko Sundov, Colonel Zoran Brezovac and their support team.