Annual NDC-IRSEM Seminar on the Black Sea Region
On October 29, NDC hosted its annual joint seminar co-organized with IRSEM (Institut de Recherche Stratégique de l'Ecole Militaire).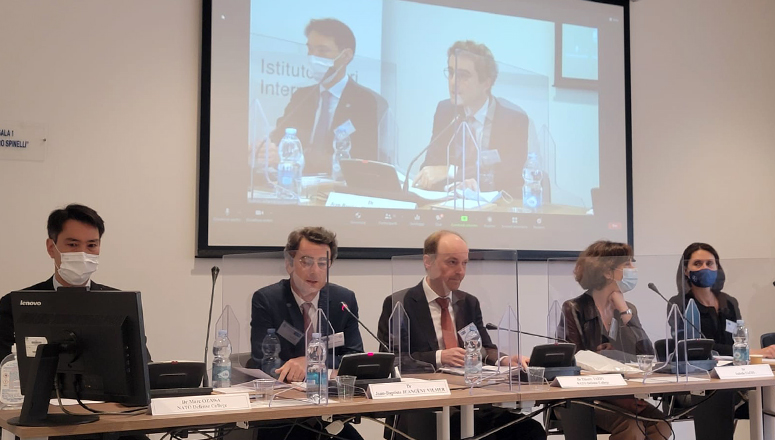 The event took place in central Rome in the facilities of IAI (Istituto Affari Internazionali) and brought together a group of academics, think tank researchers, policy makers, and NATO representatives to discuss security challenges and policy approaches focused on the Black Sea Region. This was the first in-person conference organized by the Research Division since the start of the COVID-19 pandemic. While most of the speakers and participants were physically present, many joined virtually in this hybrid-format event.
The seminar began with opening remarks from the Director of the Research Division, Dr. Thierry Tardy, and the Director of IRSEM, Dr. Jean-Baptiste Jeangène Vilmer. The daylong seminar was divided into three areas including "frozen conflict and Russian posturing", "maritime and military developments", and "political and economic challenges". Substantive questions included the following:
How will bilateral cooperation with Russia impact the security of the region?
What are the prospects for resolving frozen and ongoing conflicts?
What do geopolitical developments in the Black Sea region mean for Europe, NATO, and Partners?
What impact will China's growing presence have on the geopolitics of the Black Sea region?
The discussions will inform future research and publications of the Research Division.
During the opening reception that took place the evening prior to the seminar, the Dean of NDC, Dr. Stephen Mariano, presented the Director of IRSEM, Dr. Jean-Baptiste Jeangène Vilmer, with a Diploma and thus conferred to him the title and privileges of 'Honorary Ancien' of the NATO Defense College.