New RD Publication: Calibrating the scope of NATO's mandate
12 Nov. 2019
|
Last updated: 12 Nov. 2019 14:01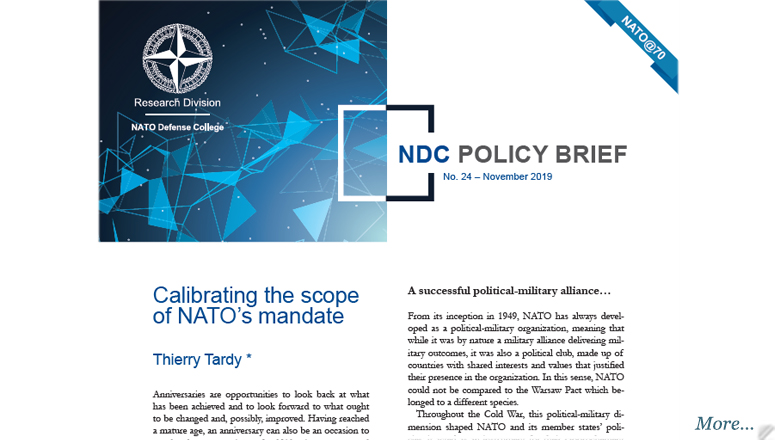 Anniversaries are opportunities to look back at what has been achieved and to look forward to what ought to be changed and, possibly, improved. Having reached a mature age, an anniversary can also be an occasion to ponder deeper questions of self-identity, purpose and ambition.
In 2019 NATO turned 70, and if, overall, it can be proud of what it has achieved for the security of its citizens since 1949, there are also challenges that constrain its full success as a security actor. More specifically, since 2014, the combination of the Alliance's two main missions of "deterrence and defence" and "projecting stability", furthermore in a context of transatlantic turbulence and deep tension among member states, has raised a number of questions about NATO's capacity to remain united and fit for purpose.
While the security environment is increasingly complex, with constantly evolving threats, and adversaries challenging established state actors and the way they fight, how should NATO further adapt to remain relevant? While conflicts are increasingly "hybrid", should NATO embrace the largest portfolio possible to match the various layers of hybridity, or should it stay focused on what it does best – delivering hard power? Probably both: staying focused might be an option in an ideal world, but in fact, broadening the scope of NATO's mandate will be difficult to resist.
*(back) Director of the Research Division, NATO Defense College.
The views expressed in this NDC Policy Brief are the responsibility of the author and do not necessarily reflect the opinions of the NATO Defense College or NATO.

Download the publication to keep reading.