New Research Division Publication: "Efficacy, not Efficiency: Adjusting NATO's Military Integration"
07 Sep. 2015
|
Last updated: 10 Oct. 2017 13:26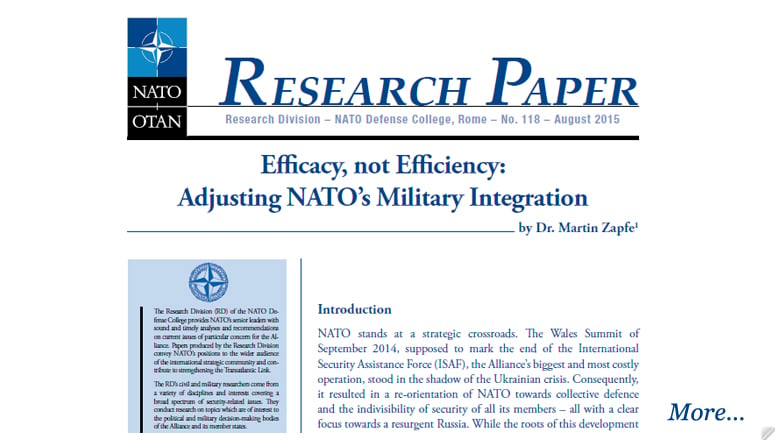 Dear Reader,
The Wales Summit of September 2014 resulted in a re-orientation of NATO towards collective defence and the indivisibility of security of all its members – all with a clear focus towards a resurgent Russia. At the core of NATO's choices now stands the tacit acknowledgement that, for the foreseeable future, the era of "Global NATO"1; is over, with ISAF liable to be the high-water- mark of Allied operations, both in geographical and military scope. Consequently, for the first time in years, real debates surround the issue of NATO capabilities beyond stabilization operations. While the last decade saw numerous efforts to enhance NATO's capabilities with regard to stabilization operations over strategic distances – and with ISAF having lifted the Alliance to a new level of interoperability – it is now about the military capabilities underlying NATO's core task. Bluntly speaking, NATO now has to prepare more for wars of necessity, and less for the wars of choice of global stabilization operations.
This paper by an analyst at ETH in Zurich has three core theses. First, with NATO's strategic return to a renewed focus on collective defence, most of the models for multinational cooperation within NATO lose their previous focus of expecting low-intensity operations over long distances. Second, most currently championed models of multinationality, which is at the core of the NATO Response Force, fail to acknowledge the basic principles of warfighting, the mechanism of force generation and integration, and the political realities of defence politics. Third, NATO multinationality will have to resemble the pattern of the 1990s rather than that of the 2000s, and it cannot be cost-effective and militarily efficient at the same time. What is needed is a paradigm that acknowledges the ad-hoc nature of deployments, discards the fiction of rotating forces or integration down to brigade levels, and realises that it will have to come down to common training and interoperability under an integrated operational command structure, not pooling and sharing.
The author posits that the first step towards improving NATO's capabilities is acknowledging that the current course falls short; that it is based on an exception to the rule of successful Allied multinationalism and ignores operational lessons gained over the last 25 years; and that, if multinational cooperation is to be successful, it should focus on facilitating the inevitable improvisation instead of clinging to the illusion of planning security through integrated and modular stand-by forces.
We hope you enjoy reading this paper.
Regards,
Jeff
Jeffrey A. Larsen, PhD, Division Head Research
1. Daalder and J. Goldgeier, "Global NATO", Foreign Affairs, Vol. 85/5, Sept./Oct. 2006, pp. 105 - 113.