Deterring a Nuclear Russia in the 21st Century
Theory and Practice
17 Jun. 2016
|
Last updated: 10 Oct. 2017 13:26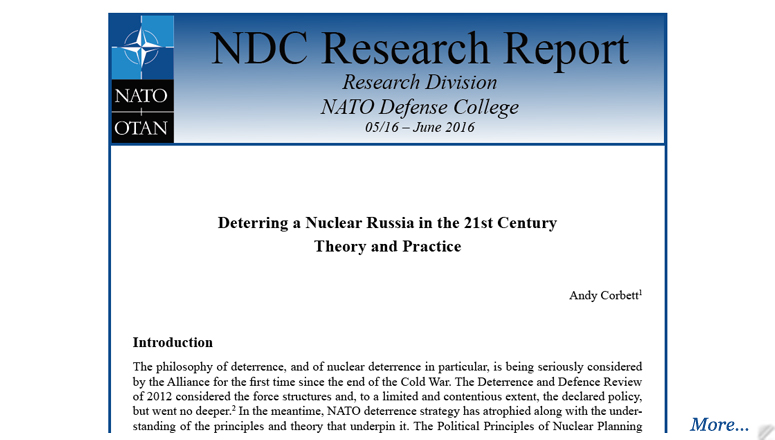 Dear Reader,

The philosophy of deterrence, and of nuclear deterrence in particular, is being seriously considered by the Alliance for the first time since the end of the Cold War. The Deterrence and Defence Review of 2012 considered the force structures and, to a limited and contentious extent, the declared policy, but went no deeper. In the meantime, NATO deterrence strategy has atrophied along with the understanding of the principles and theory that underpin it.
The latest Report by the NDC Research Division considers contemporary philosophical and psychological principles supporting defence and deterrence theory, and how these concepts inform the current strategic thinking of the Allies. In doing so, it suggests that Allies' differing interpretations of deterrence may engender difficulties in achieving consensus in the formulation of both Alliance policy and Alliance strategy.
In order to fully comprehend the nuances of their nuclear deterrence policy and posture, the Allies must re-educate themselves in the lexicon of difficult truths at the heart of nuclear deterrence in the 21st century. Allies may struggle to align their different principles within the framework of a common narrative for the Alliance's 21st century deterrence mission. Well-informed and truly open internal debate will be critical.
We hope this paper helps you to carefully examine this difficult but critical subject. The Alliance clearly states in all public documents that it remains a nuclear alliance, so we must continue to consider these weapons and policies as we assess the current strategic environment.

Regards,

Jeff

Jeffrey A. Larsen, PhD, Division Head Research