Non-Resident Associate Fellow
Dr Aniseh Bassiri Tabrizi is Senior Research Fellow at the International Security Studies department at the Royal United Services Institute (RUSI, London) and a Visiting Fellow at the London School of Economics' Middle East Centre. Her research is concerned with security and geopolitics in the Middle East, with a particular focus on Iran and Iraq's foreign and domestic politics, drivers of radicalisation, and drones proliferation.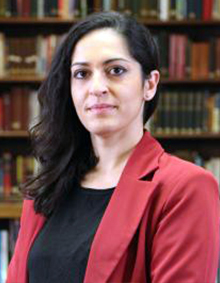 She earned her PhD from the Department of War Studies, King's College London, with a dissertation on the diplomatic initiative of France, Germany and the UK on the Iranian nuclear issue.
She has nearly a decade of experience in international relations and security in the Middle East working in academia, think tanks and consultancies, including King's College London, the European Council on Foreign Relations (ECFR), Oxford Research Group, and various international consultancy firms.
She frequently writes for outlets such as Foreign Policy, BBC News, The Telegraph, and appears as a commentator on the BBC, Al Jazeera, Sky News, CNBC, NPR, Bloomberg, The Wall Street Journal and The New York Times.