Former Eisenhower Defense Fellow
Andrea Chiampan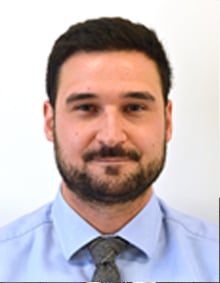 Andrea Chiampan was an Eisenhower Defense Fellow at the NATO Defense College (NDC), Rome.
Andrea holds a PhD in International History from the Graduate Institute of International and Development Studies of Geneva. Before joining the NDC, he was a postdoctoral fellow at the Sir Michael Howard Center for the History of War at King's College London (KCL), an Agnese N. Haury Fellow at New York University (NYU), and a Swiss National Science Foundation Fellow (SNSF) and Stanton Nuclear Security Fellow at the Massachusetts Institute of Technology (MIT). He has also held research positions at the University of Cambridge and the London School of Economics and Political Science (LSE) and has recently been awarded a Marie Skłodowska Curie Action (MSCA) grant by the European Commission, which he will carry at the University of Toronto and Ca' Foscari University in Venice.
His research focuses on the history of nuclear weapons, arms control, and transatlantic diplomacy, with a focus on the interactions of politics, diplomacy, and technology in the Cold War. His first book project investigates the history of the cruise missile and its entanglement with détente in the late Cold War period. His second book project analyzes the development of GPS as a byproduct of the waging of the Cold War by the United States through technology. Portions of his research have appeared in leading journals such as Diplomatic History, Diplomacy & Statecraft, the International History Review, and Studies in Conflict and Terrorism.