PfP Research Fellow
Dr. Polina Sinovets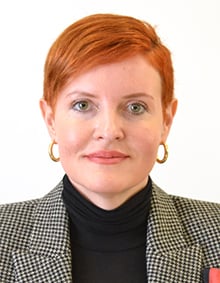 Polina Sinovets is the Head of the Odesa Center for Nonproliferation (OdCNP) and holds the position of Associate Professor and Ph.D. in Political Science in the Department of International Relations, Political Science, and Sociology at Odesa I.I. Mechnikov National University. Additionally, she is an Affiliate Professor at the University of Malta and a PfP research fellow at the NATO Defense College.
Dr. Sinovets has an accomplished research career in the field of nuclear weapons policy, which has involved working at several prestigious institutions.
From 2003 to 2012, she served as a senior research associate at Ukraine's National Institute for Strategic Studies.
In 2017-2018, she was awarded a Fulbright Fellowship and worked at the James Martin Center for Nonproliferation Studies.
Recently, in 2022-2023, Dr. Sinovets held research fellowships at the Vienna Center for Disarmament and Nonproliferation and Fondation pour la Recherche Stratégique.
She has published over 90 research publications in various academic journals, including the Bulletin of the Atomic Scientists, Notes de la FRS, and NATO Defense College Research Papers, among others.