Lieutenant-General Olivier Rittimann
The Commandant
Last updated: 26 Oct. 2022 11:44
Welcome to the NATO Defense College! This is indeed a unique institution. For 70 years the College has been training and educating leaders, both military and civilian, who have gone on to work at NATO Headquarters and its Commands, as well as in the related diplomatic and military fields in their respective nations. Our strategic-level courses ensure that our graduates have a firm grasp of the new challenges that may affect our future security. Furthermore, our method of instruction helps graduates develop the human interoperability skills that are necessary to function successfully in a multinational environment.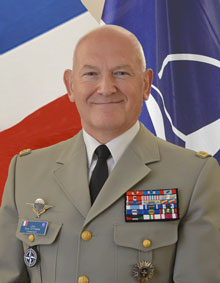 Outreach is one of our key specialities and the College is now part of a recognized defence network that extends to over 50 nations. Nations participating in the Partnership for Peace (PfP) and Mediterranean Dialogue (MD) programs have benefited from having representatives attend our extended Senior Course and shorter Modular Short Courses and Integrated Partnership Orientation Courses. In the spring of 2005 we had our first representative from Iraq attend NDC and in the fall of 2005 we welcomed our first Course Members from the Istanbul Cooperation Initiative nations to the College.
Furthermore the Secretary General characterized NDC as "...an indispensable part of the new NATO". He concluded his remarks by saying, "More than ever, we need military men and women with keen political instincts and considerable diplomatic skills. More than ever, we require military and civilians gifted with the talent of improvisation, able to communicate in several languages, able to adapt to rapidly changing circumstances. And more than ever, we need people who are geared to cooperation with colleagues from other countries, whether they are from Allied or Partner countries. We also need what has been referred to as human interoperability - officers who think alike, officers who share the same fundamental ideas and who are not just able, but actually pre-disposed, to finding new approaches to new problems".
Lieutenant-General (FRA-A) Olivier RITTIMANN, NDC Commandant