New Research Division Publication - Moscow in the Donbas: Command, Control, Crime and the Minsk Peace Process
24 Mar. 2017
|
Last updated: 02 Oct. 2018 09:46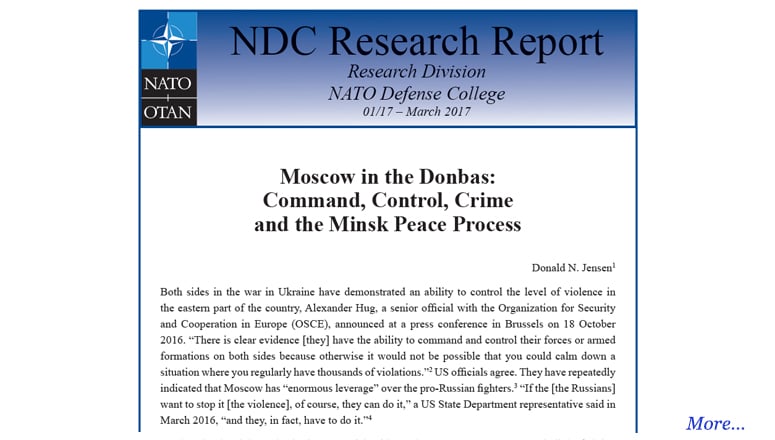 Dear Reader,

The Russian annexation of Crimea and subsequent invasion of Ukraine in 2014 was the largest challenge to European security, especially NATO and the European Union, since the end of the Cold War. At its core, the conflict is not a civil war nor the result of a popular uprising, as claimed by Kremlin propaganda, but a conflict manufactured by Moscow to prevent Ukraine's unification into Western security and economic structures. This Russian strategic objective has not changed since before the Maidan crisis began in late 2013. But since the beginning of the fighting Moscow has shifted considerably in the way it has employed its proxy fighters in eastern Ukraine as external circumstances -- such as the imposition of sanctions by the West -- have warranted.
The 13-point Minsk peace plan, agreed in February 21015, provides for the "withdrawal of foreign armed formations," and the turning over of control of the Ukrainian-Russian border to Kiev. In exchange, Moscow expects the decentralization of power in the Donbas, local elections and an amnesty for pro-Russian fighters. Although publicly endorsing the accords, Vladimir Putin has shown signs he wishes to abandon the agreement and advance Russian interests via other scenarios. Whatever course he chooses, the fate of the pro-Russian fighters in Ukraine will play a key role in Kremlin calculations.
Widespread international frustration with the Minsk agreement, and the coming to office of a new US administration, has created speculation that President Trump would seek a "Grand Bargain" with Russia over Ukraine. The elements of any such deal would likely include a trade of Donbas back to Kiev and withdrawal of Russia troops and proxy fighters in exchange for the easing of Western sanctions, as well as a promise that Ukraine would join neither NATO or the EU. In focusing on the economic, political and military relationships between Moscow and it proxy fighters, this new NDC Research Report by one of our Visiting Scholars on Russia offers insights into the viability of Minsk process and the practicality of alternative approaches to settling the conflict. Under any alternative future, NATO is likely to play a pivotal role.
We hope you enjoy reading this report.
Regards,

Jeff
Jeffrey A. Larsen, PhD, Division Head Research