New RD Publication: From hybrid warfare to "cybrid" campaigns: the new normal?
18 Sep. 2019
|
Last updated: 18 Sep. 2019 16:30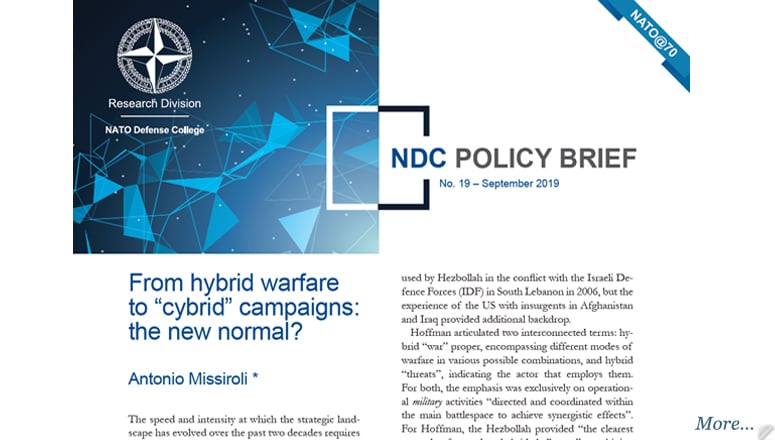 The speed and intensity at which the strategic landscape has evolved over the past two decades requires constantly updating our analytical and operational tools, capturing change as it occurs, anticipating it whenever possible, and also framing it in terms that facilitate adaptation and cooperation. The recent debates over "hybrid" are an excellent case in point.
What's in a name?
The term "hybrid", as associated with "warfare", made its first appearance a decade ago among American military analysts. It was Frank Hoffman, in particular, who first coined it. He acknowledged that other definitions (such as "unrestricted", "compound" or "4th generation") had already captured the emerging features of 21st century warfare, as carried out by both state and non-state actors. Hoffman characterized "hybrid" as involving "a range of different modes of warfare, including conventional capabilities, irregular tactics and formations, terrorist acts including indiscriminate violence and coercion, and criminal disorder"1. He based his empirical analysis on the tactics used by Hezbollah in the conflict with the Israeli Defence Forces (IDF) in South Lebanon in 2006, but the experience of the US with insurgents in Afghanistan and Iraq provided additional backdrop.
*(back) Assistant Secretary-General, Emerging Security Challenges Division, NATO. The author writes in a personal capacity.
1(back) This and other references here are from F.G. Hoffman, Conflict in the 21st century: the rise of hybrid warfare, Potomac Institute for Policy Studies, Arlington, 2007.
Download the publication to keep reading.