New RD Publication - Scoping NATO's environmental security agenda
23 Mar. 2020
|
Last updated: 06 Apr. 2020 12:10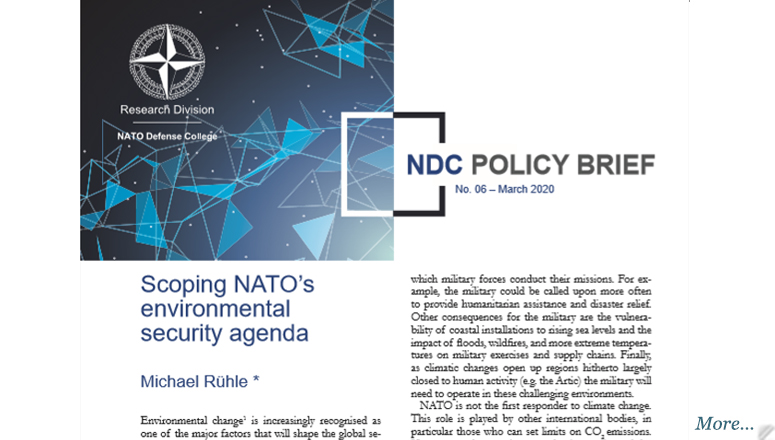 Environmental change1 is increasingly recognised as one of the major factors that will shape the global security environment. According to most experts, rising global temperatures will lead to rising sea levels and cause more extreme weather events, such as storms, flooding, droughts and wildfires.2 The firestorms that engulfed parts of Australia in late 2019 and early 2020, burning an area the size of Belgium and Denmark combined, and severely decimating that continent's wildlife, were a stark reminder of the force of these changes.
While the causal relationship between environmental change and conflict is difficult to establish, there have been arguably several conflicts where environmental change has acted as a trigger, notably Darfur and Somalia. Even the beginning of the Arab Spring has been related to environmental change: unrest erupted because of increasing food prices, which in turn were the result of several bad harvests attributed to climate change.3 In general, there is a widely held assumption that environmental change could lead to food and water shortages, pandemic diseases, mass migration, and humanitarian disasters.
---
*
(back)
Head, Hybrid Challenges and Energy Security Section, Emerging Security Challenges Division, NATO HQ.
1
(back)
Although the term "climate change" is more commonly used, it is politically charged, as it is closely connected with the question of whether it is a man-made phenomenon. Hence, this paper mostly uses the term "environmental change", as it is also more comprehensive.
2
(back)
See International Military Council on Climate and Security,
The World Climate and Security Report 2020
, February 2020.
3
(back)
See S. Johnstone and J. Mazo, "Global Warming and the Arab Spring",
Survival
, April/May 2011, pp.11-17.
Download the publication to keep reading.