Russia in NATO's South: Expansionist Strategy or Defensive Posture?
01 Feb. 2021
|
Last updated: 14 Jun. 2022 15:58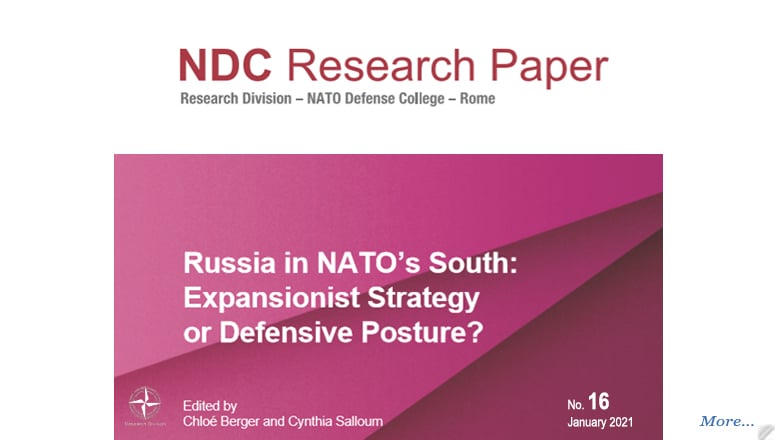 Introduction
Russia's presence in the Middle East and North Africa (MENA) is a significant component of contemporary Russian foreign and security policy. Moscow's approach to NATO's South1 has undoubtedly undergone considerable change since the collapse of the Soviet Union. During the Cold War, it had built a set of alliances with Egypt, Iraq, Syria, Yemen, Algeria and Libya, among others, which gave Moscow important leverage throughout the region. The Soviet invasion of Afghanistan stirred resistance and opposition in the Muslim world, marking a major turning point in its Middle Eastern foreign policy. With the demise of its empire, in addition to its economic and military weaknesses, Russia faced a series of new challenges: a further disintegration of its own south, notably in the South Caucasus, the rise of radical extremism in Chechnya and Dagestan and a NATO programme of partnerships and cooperation that threatened its influence. All of these constrained Moscow's foreign policy at large, including its Middle Eastern arrangements.
In pursuing interests above values, Russia, in the last twenty years, developed channels of dialogue and cooperation with several Sunni Arab states traditionally close to the US, including Saudi Arabia, while deepening diplomatic and military ties with Iran and the Syrian regime. Russia maintained relations with Fatah and recognized Hamas after it won the Palestinian parliamentary elections in 2006, while successfully engaging pragmatically with Israel.2 Keeping contacts open with all relevant parties marks continuity between Soviet and Russian foreign policies.
Moreover, in the last decade, the increasing instability across the Middle East and North Africa after the Arab Spring, from which Moscow kept its distance, offered new opportunities for influence and power projection, most notably in Syria and Libya. Putin is tracking two main objectives there: one is building status as a regional actor; the other is enhancing his prestige domestically.3 From the Libyan power vacuum to the US retreat from Afghanistan, the Kremlin is making the most of strategic opportunities and may continue to do so. However, it remains to be seen whether its regained confidence will lead to a more permanent Russian presence and influence. In the South, Moscow has today a relative free rein. But an increasingly mature European Union and most importantly a powerful and more strategically oriented US under President Biden may seriously constrain Russia's room for manoeuvre.
Several drivers, ranging from domestic and economic politics to regional and global geopolitics, could explain Russian involvement in the MENA. Firstly, Russia is building a defensive strategy aimed at reinforcing its front line against Western encroachment and Islamist terrorist attacks. Secondly, it is displaying an expansionist drive, aimed at controlling at least parts of the Eastern and Southern Mediterranean by consolidating old alliances and building new coalitions including with business and arms traders. Thirdly, Russia's presence in the MENA can be seen as a classic zero-sum game of power politics with the US whereby Moscow is trying to fill the void left by Washington. Last, but certainly not least, it is also driven by domestic considerations that strengthen Putin's grip on power, and Russia's regional influence and international prestige.
While all these factors play a role, this edited volume shows that opportunism and contingency remain key variables to explain Russian behaviour in the MENA. All of these drivers were somehow on display in Syria, which became an ideal case-study to explain Russian policy in the South. Yet, beyond the specific rationale, some questions still remain about Russia's future role and influence in the region. Is the MENA region significant enough to help Russia recover a status of global power beyond regional leadership? Do status and prestige suffice, and if so, at what cost? What are Russia's current and future investments in the region and what are their consequences on trade, energy, and its military posture? What would the real benefits of a Russian return to the MENA region be for its economy and power? Most importantly, what would be the consequences of an assertive Russia for NATO and its partners in the South?
Download the publication to keep reading.
---
1
(back)
NATO's South is defined as encompassing a large periphery that stretches from Mauritania in the Sahel, to the Middle East, North Africa and the Gulf, up to Afghanistan and Pakistan in South Asia.
2
(back)
See L. Issaev L. and A.R. Shishkina, "Russia in the Middle East: in search of its place", in W. Mühlberger and T. Alaranta (eds.),
Political narratives in the Middle East and North Africa. Perspectives on development in the Middle East and North Africa (MENA) region
, Springer, Cham, 2020, pp.95-114.
3
(back)
For an analysis of Russia's renewed global presence, see M. Kaczmarski, W. Michnik, A. Monaghan, V. Rotaru, "Russia's emerging global ambition", NDC Research Paper, No.11, July 2020.
---