France in NATO - An evolving Gaullian agenda
05 Oct. 2022
|
Last updated: 05 Oct. 2022 10:07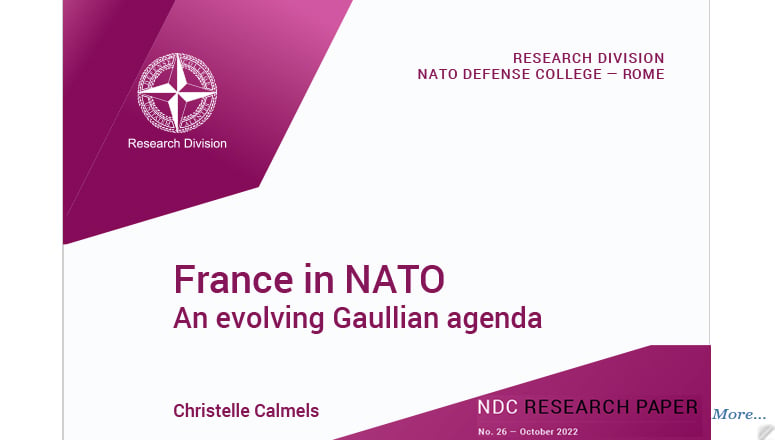 Introduction*

On November 7, 2019, French President Emmanuel Macron declared to The Economist: "To my mind, what we are currently experiencing is the brain death of NATO. We have to be lucid".1 Macron's lament regarding NATO's loss of political and strategic purpose occurred against the backdrop of a crisis of multilateralism, one fuelled by national governments' growing discontent and disinvestment from international organisations. This precarious situation deteriorated further with the outbreak of a worldwide pandemic, which revealed the difficulties international organisations face when coping with global crises.
In early 2022, the situation had not improved. While the health crisis remains ongoing, multilateralism is today bogged down by new and lingering challenges. The chaotic US withdrawal from Afghanistan in August 2021 and the Taliban's subsequent return to power in Kabul have exacerbated the bitter failure of NATO's out of area ventures. The September 2021 Australia-UK-US (AUKUS) submarine deal has also shaken the transatlantic bond, undermining Franco-American relations just as Western Allies seek to reconfigure their Indo-Pacific strategies.
The current international environment demonstrates that multilateralism and the inner workings of international organisations are far from irrelevant. Now more than ever, scholars and experts must investigate the decision-making processes that characterise international organisations and the behaviours of their member states. Doing so would enable a better understanding of collective answers to the issues that emerge within the evolving international security environment.
In that regard, the case of France is an appropriate entry point considering its global clout and multilateral activism. While critical of some international organisations, France remains a vocal proponent of multilateralism, having called for an "alliance for multilateralism" that defends "a multilateral order based on respect for international law".2 With the implementation of Brexit, moreover, France now benefits from a unique position in the international system: it is the only state to possess a permanent seat in the United Nations Security Council (UNSC) and enjoy membership within both the European Union (EU) and NATO.
Download the publication to keep reading.
---
*
(back)
The author would like to thank Dr. Amelie Zima, Dr. Thierry Tardy, Mr. Thomas Fraise and Mr. Pierre de Dreuzy for their thoughtful comments on earlier drafts of this paper.
1
(back)
"Emmanuel Macron warns Europe: NATO is becoming brain-dead",
The Economist
, 7 November 2019.
2
(back)
"L'Alliance pour le multilatéralisme",
France Diplomatie
, last updated in November 2020.
---