New Research Division Publication: "Russia's 2014 Military Doctrine and beyond: threat perceptions, capabilities and ambitions"
10 Jul. 2015
|
Last updated: 10 Oct. 2017 13:26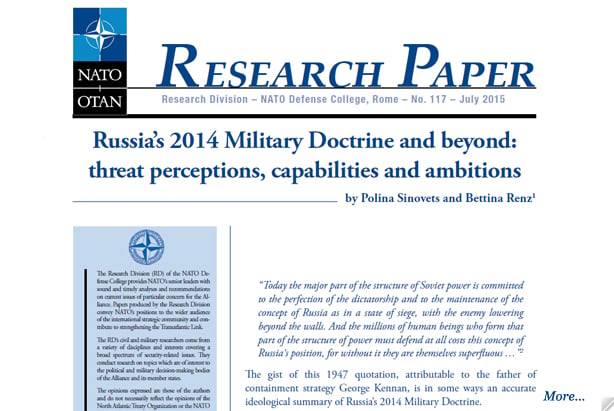 Dear Reader,
In this latest paper by the NATO Defense College, two experts on Russia deconstruct Russia's December 2014 military doctrine and ask a key question: To what extent does this new doctrine add anything substantially new to the understanding of contemporary Russian politics? Although on the surface the 2014 doctrine does not differ significantly from its previous versions, the devil is in the details—and the details in this case are not very reassuring. The main theme of the doctrine is rivalry with the West, which Moscow politely calls "equitable cooperation" whilst avoiding the word "partnership."
The doctrine was written to influence two audiences: internal and external.
The 2014 doctrine, in comparison to its predecessor, stands out for emphasizing domestic threats to national security. Such threats include destabilisation of the political situation, including terrorist activities as well as outside political influence on Russia's population.
For foreign audiences the message also appears to be quite clear. Changes made since the 2010 version explain Russia's vital concerns vis-a-vis its neighbourhood, which are discussed under both headings of military dangers and military threats. The implication of the latter is to show potential adversaries, including NATO, that intervention in Russia's neighbourhood could, in certain circumstances, be interpreted by Russia as a casus belli. Overall, the 2014 doctrine gives an impression of deja-vu, and harks back to the great power doctrines of the past. In the manner of the Monroe doctrine, it sends Western powers the message that Russia's neighbourhood should be regarded as its sphere of influence, which Moscow is ready to defend, if necessary by all means. The implicit concern in the doctrine over the threat to Kremlin-friendly regimes in neighbouring states is like a modern version of the Brezhnev doctrine, where direct military intervention is camouflaged by hybrid war-type activity.
The successful use of hybrid tactics in Crimea and to an extent in eastern Ukraine has been the Kremlin's most successful military endeavour in the past two decades for those states that Russia considers to be a part of its sphere of vital interests, this is a major concern, especially since those outside of the NATO alliance do not have the capacity to stand up against such approaches alone. Improving conventional capabilities and strong nuclear posture will only exacerbate such fears, as they deter any powerful actor or nation from interfering in conflicts in Russia's neighbourhood.
We hope this paper proves elucidating.
Regards,
Jeff
Jeffrey A. Larsen, PhD, Division Head Research