Conference on Future Nuclear Deterrence Requirements for the Alliance
05 Dec. 2015
|
Last updated: 05 Dec. 2015 16:35
On 2-4 December 2015, a workshop on future nuclear deterrence requirements for the Alliance took place at the NATO Defense College. The goal of the conference was to provide NATO Headquarters with expert analysis of the deterrence problems faced by the Alliance in the new, challenging security environment of today.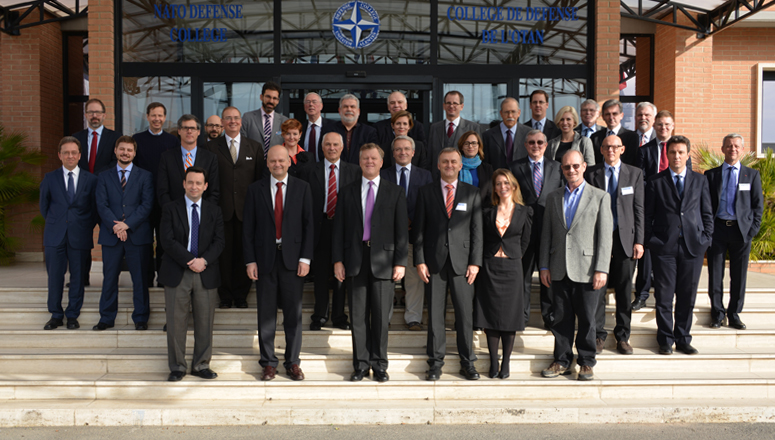 The delegation was warmly welcomed by the Dean of the NDC, Dr Daria Daniels Skodnik (SVN C). In her introductory remarks, the Dean underlined the importance of deterrence, particularly against the background of the terrorist attacks in Paris and Istanbul, the struggle against Daesh and the difficulties in current relations with Russia. The Dean also spoke about the important role of NATO in maintaining strong cooperation between Allies in the face of international threats.
The conference was organized by the NDC Research Division led by Dr Jeffrey A. Larsen (USA C), in cooperation with the Nuclear Policy Directorate at NATO Headquarters. There were seven expert panels covering a wide range of topics, including discussion of the new threats on the Eastern and Southern flanks of the Alliance, the role of deterrence in contemporary Europe, as well as a session on practical steps and exercises aimed at increasing NATO's coherence.
NATO officials, academic experts and policymakers were able to exchange their experiences and views in an open academic environment. The conference attempted to identify areas in which strategic, policy-related or force structure changes are possible and could help enhance the Alliance's deterrence commitments. Close attention was given to the current status of NATO nuclear forces and policies, as well as future deterrence requirements. The Research Division of the NDC will now draft a conference report with the policy and force structure implications that were identified, ready for delivery to NATO's Nuclear Policy Directorate.