New Research Division Publication: "Tacit Expertise: How the NATO Defense College nurtures an international hub of security knowledge through education"
08 Jan. 2016
|
Last updated: 10 Oct. 2017 13:26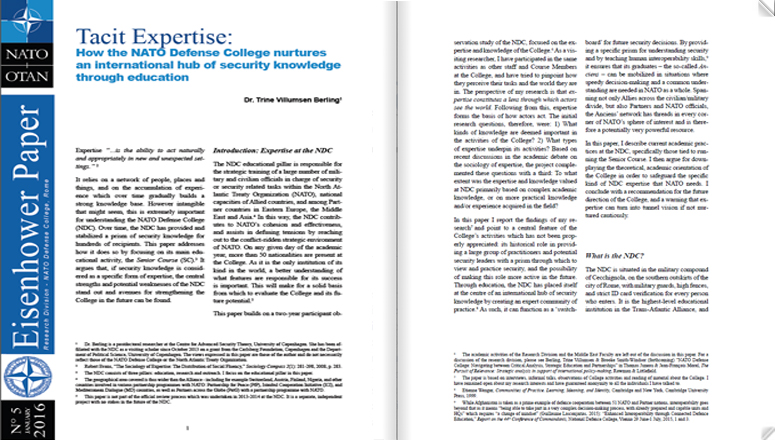 Together with the NATO School in Oberammergau and the NATO Communications and Information Systems School, the NATO Defense College is one of NATO's principal educational facilities, used to train and educate leaders and specialists from member and Partner countries. The mission of the NDC is to contribute to the effectiveness and cohesion of the Alliance by developing its role as a major centre of education, study, and research on transatlantic security issues. In terms of its educational programs, the College provides strategic-level courses on politico-military issues designed to prepare selected personnel for NATO and NATO-related appointments.
This Eisenhower Paper by the NDC Research Division is the result of a two-year participant observation study of the NDC, focused on the expertise and knowledge of the College. Written by a postdoctoral researcher from the University of Copenhagen who was affiliated with the NDC as a visiting scholar, the paper addresses how the College has provided and stabilized a prism of security knowledge for hundreds of recipients over the years, by focusing on its main educational activity, the Senior Course. She argues that the model used in Rome differs from a standard educational program, and is unique among Western defense colleges. This is by design. The NDC is not a degree-granting institution, nor, she argues, should it aspire to become one. The College has nearly 65 years of success in preparing senior officers for work in multinational organizations using a proven approach.
We hope that this inside look at the workings of one aspect of the NATO Defense College will prove of value in your understanding of our mission.
Regards,
Jeff
Jeffrey A. Larsen, PhD, Division Head Research