The strategic argument for a political NATO
15 Mar. 2021
|
Last updated: 22 Mar. 2021 15:11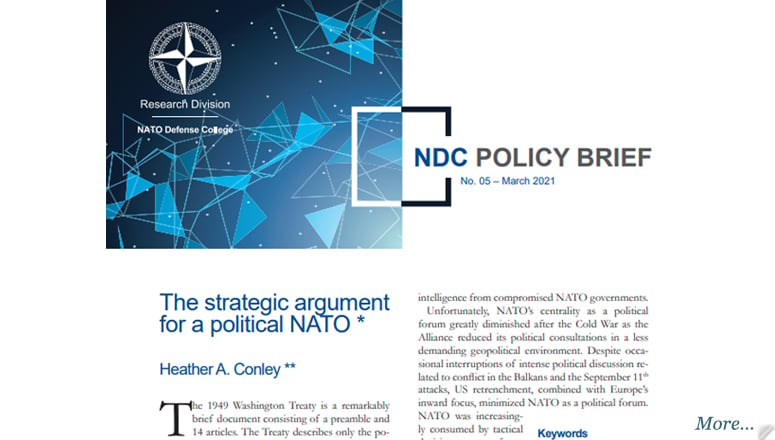 "The 1949 Washington Treaty is a remarkably brief document consisting of a preamble and 14 articles. The Treaty describes only the political commitments and obligations of the signatories. It does not articulate a requirement for NATO members to spend a certain amount of their Gross Domestic Product (GDP) on defense nor does it specify the military capabilities that a NATO member must possess to defend the Alliance.
From 1949 to the collapse of the Soviet Union, NATO was the singular locus of geopolitical discussion between North America and Europe. These were not easy discussions, yet the Alliance weathered strident policy and geopolitical policy differences. NATO also endured its members temporarily ceasing to be democracies due to military coups or concern about Communist influence on NATO governments. With a political body standing on the shoulders of a credible military deterrence, Allies were able to deploy creative problem-solving skills to bridge political differences, such as the policy innovation of deterrence and détente, while pursuing other, quieter methods, such as the temporary suspension of sharing sensitive intelligence from compromised NATO governments."
Download the publication to keep reading.
---
*
(back)
This
Policy Brief
on the political dimension of the Alliance is the first of a series of three texts that the NDC releases in relation to the NATO 2030 process. The other two texts will look at the
military
aspects and at the
global
dimension of NATO's future.
**
(back)
Heather A. Conley is Senior Vice President for Europe, Eurasia and the Arctic at the Center for Strategic and International Studies (CSIS), Washington, DC. These views are her own.
---