Principles of Nuclear Deterrence and Strategy
26 May. 2021
|
Last updated: 26 May. 2021 13:49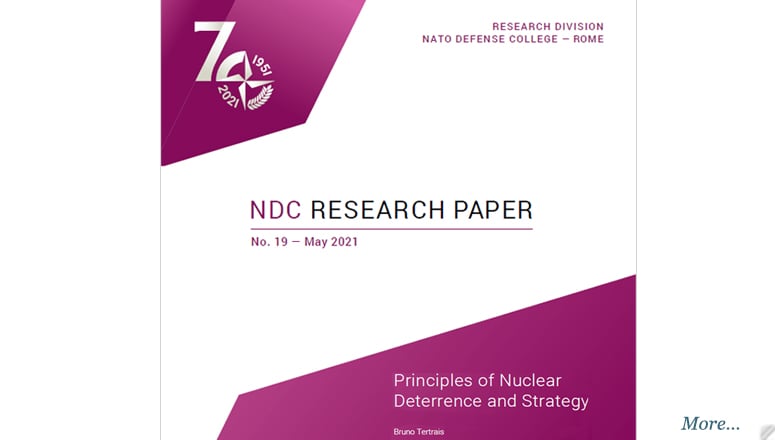 Introduction
This Research Paper seeks to describe and explain the principles of nuclear deterrence and nuclear strategy. It does not defend or take sides – in favour of or against – a particular thesis, concept, idea or school of thought. While it mostly applies to Western conceptions and debates (i.e., the United States, the United Kingdom, France, NATO), most of the points made seem widely shared.1
The paper is structured as an investigation of nuclear strategy, moving stage by stage from the conceptual level to the planning level before setting out the issues that revolve around nuclear deterrence. Following an initial conceptualization of deterrence, the paper looks at its implementation in the nuclear domain. It then describes the various notions associated with nuclear deterrence and nuclear strategy, as well as the related interactions with weapons systems. It also explains the main dilemmas and questions associated with nuclear strategy, offering food for thought on the future of nuclear deterrence.
One author suggests that there have been four waves of nuclear deterrence analysis.2 The first of these, in response to the invention of the atom bomb, conceptualized the basis of nuclear deterrence. The second focused on formal theorizing (with the occasional help of game theory), in a world of increasingly diversified nuclear arsenals. The third wave, based on trends observed over a period of many years, used case studies to judge how efficient nuclear weapons had been in deterring aggressions. The fourth wave, leveraging advances in cognitive sciences to challenge the initial "rational actor assumption", grappled with post-Cold War problems such as so-called rogue states and terrorist networks. We may now be entering a fifth wave, as the expansion of cyberspace and the advent of artificial intelligence and quantum computing may have ramifications for nuclear deterrence. This Research Paper seeks to take stock of this corpus of studies, so as to produce a contemporary framework designed for policy-makers, practitioners and scholars.


Download the publication to keep reading.
---
1
(back)
The author would like to thank Jessica Cox, Director of Nuclear Policy at the NATO International Secretariat, and Jeffrey Lewis, Director of the East Asia Program at the Center for Non-Proliferation Studies of the Middlebury School of International Studies, for their thoughtful comments on earlier drafts of this paper.
2
(back)
J. W. Knopf, "The fourth wave in deterrence research",
Contemporary Security Policy
, Vol.31, No.1, 2010, pp.1-33.
---