NDC Research Division Hosts the 4th Early-Career Nuclear Strategists Workshop (ECNSW)
12 Jul. 2022
|
Last updated: 12 Jul. 2022 09:39
On July 6-8, the NATO Defense College Research Division hosted the 4th edition of the Early Career Nuclear Strategists Workshop (ECNSW) and the first in-person edition of the ECNSW since its inaugural session in 2019.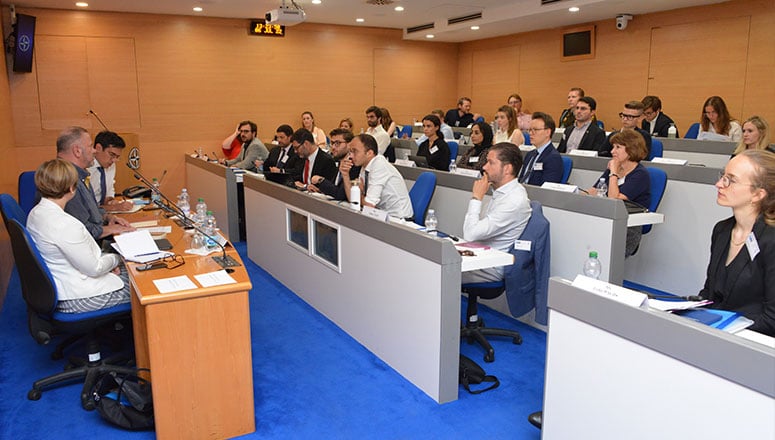 Led by Senior Researcher Andrea Gilli, the 4th ECNSW gathered promising young scholars of nuclear politics to interact closely with senior policymakers and academic experts in nuclear strategy. This year's event brought together a diverse group of attendees from both sides of the Atlantic, with participants varying widely in their academic specializations, institutional affiliations, and degrees of experience.
Organized in collaboration with NATO Headquarters' Nuclear Policy Directorate, the workshop sessions were comprised of guest lectures by senior experts, followed by junior scholar paper presentations and a Q&A period. Junior scholars were given the opportunity to hear from several high-level NATO officials, including NATO Nuclear Policy Director Jessica Cox, incoming NATO Assistant Secretary General for Defence Policy and Planning, Angus Lapsley, and Camille Grand, NATO Assistant Secretary General for Defence Investments. Dr. Bruno Tertrais, Deputy Director at the Fondation pour la recherche stratégique (FRS), Professor Cynthia Roberts of Columbia University, and Professor Alexander Mattelaer of the Centre for Security Diplomacy, and Strategy (CSDS) at Vrije Universiteit Brussels (VUB) also provided expert lectures and feedback. Paper presentations covered a variety of pressing nuclear issues, including the role of emerging technologies in nuclear deterrence; the challenges of a multipolar nuclear world; and related issues like arms control and non-proliferation.
Lastly, on Friday workshop attendees participated in a crisis simulation organized by Professor Michael Hunzeker and Joseph Petrucelli, both from George Mason University (GMU).