Special day at the NDC on "The Northern Region including the Arctic"
08 May. 2023
|
Last updated: 08 May. 2023 10:32
On 5 May 2023, as part Senior Course 142's Study Period D entitled "NATO Risks and Challenges", the NATO Defense College held a special day on "The Northern Region including the Arctic" in cooperation with the Royal Danish Defence College.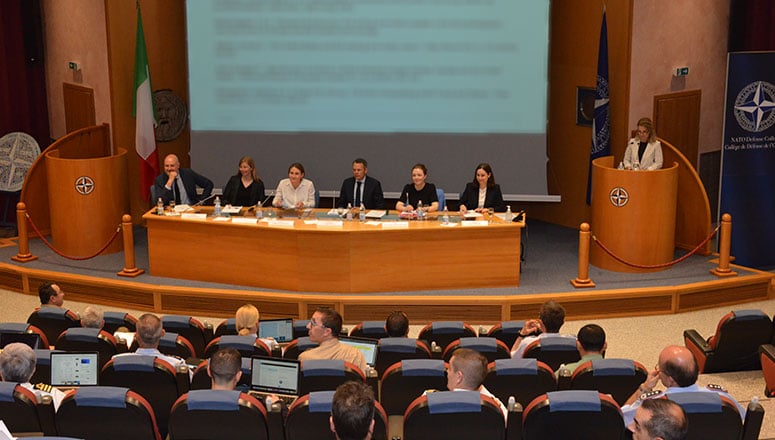 For the first time ever, the NDC welcomed guest lecturers from the Royal Danish Defence College (RDDC), with four presenters coming from the RDDC's Centre for Arctic Security Studies, within the Institute for Strategy and War Studies, and two lecturers from the University of Copenhagen.
The event provided SC 142 Course Members with a unique opportunity to learn about the security implications of developments in the Arctic region, an area of increasing importance in international security discussions.
The Course Members heard the following lectures: "Why is Denmark an Arctic state?", presented by Associate Professor Rasmus Dahlberg, PhD; "The Arctic as a Strategic Theatre", by Associate Professor Amelie Theussen; "The evolving Chinese strategy in the Arctic - Taking advantage of a weakened Russia in the Arctic?", by Associate Professor Camilla T. N. Sørensen; "Russia's Arctic policy", by Associate Professor Jørgen Staun; "US perspectives on security in the Arctic", by PhD candidate Lin A. Mortensgaard; and "NATO, EU and the geopoliticization of the Arctic", by PhD fellow Lise Wiederholt Christensen. The lectures were followed by a panel discussion between the guest presenters and a Q&A session with the Course Members.
This special day was planned and moderated by NDC Faculty Advisor with Study Period Ms Nancy Vellone.
Founded in 1830, the Royal Danish Defence College is an independent educational institution under Defence Command Denmark. The College creates a lifelong learning experience for members of the Danish Defence forces through relevant, practice-oriented, and contemporary education and training, while also contributing to the public debate through qualified research and development.