New Research Division Publication - Time to Face Reality: Priorities for NATO's 2016 Warsaw Summit
15 Jan. 2016
|
Last updated: 10 Oct. 2017 13:26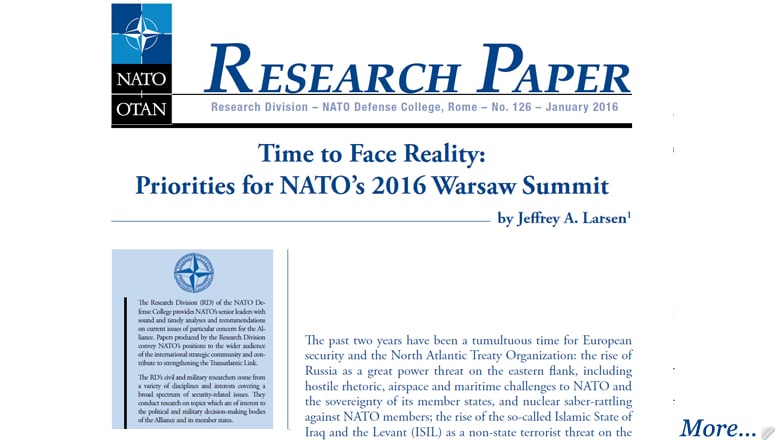 Dear Reader,
The past two years have been tumultuous for European security and the North Atlantic Treaty Organization, now facing a militant Russia, ISIL, terrorism in European cities, waves of migration, restive partners, and divided members. Finding the proper response to these challenges has proven elusive. The Alliance has instituted a number of important new conventional preparedness initiatives, but there is debate over whether this has been enough to enhance NATO's military capabilities in a significant way or to prove its political resilience. All of this has set the stage for a summit meeting in Warsaw in July 2016 that could be as important as any in the past two decades.
This paper by the Director of the Research Division at the NATO Defense College highlights these challenges and what they mean for an Alliance that was not prepared to deal with them, and which some observers think has responded too slowly to several significant threats. The author addresses six major categories of issues that face the Alliance and discusses each set in terms of how NATO may wish to deal with them in Warsaw this summer: the return of Russia, deterrence and nuclear policy, reassurance and adaptation, new threats and transatlantic support, partnerships and enlargement, and the possible need for a revised strategic concept.
The conclusion of this paper is that the long term adaptation of the Alliance to the new security environment will require a number of steps, including some that will harken back to the days of the Cold War. Some allies will be uncomfortable with those decisions. But as a military alliance charged with defending its member nations against adversary threats to Europe and North America, it is incumbent upon the Allies to act to meet that responsibility.
We hope you enjoy this latest publication from the Research Division of the NATO Defense College.
Regards,
Jeff
Jeffrey A. Larsen, PhD, Division Head Research